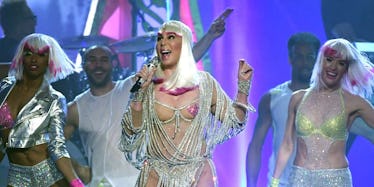 Twitter Is Convinced Cher Lip Synced Her 2017 Billboard Music Awards Performance
Ethan Miller/Getty Images
Cher just took the stage at the 2017 Billboard Music Awards, pasties and all.
We've seen Cher rock so many different hairstyles and spectacular outfits throughout her entire career, and this evening was no exception.
From her pasty outfit (that seems to be made completely with silvery beads), to her ever-so-trendy black sheer ensemble in her second performance, we can always count on Cher's elaborate ensembles to be a big part of the show.
But what we didn't expect was that many would think Cher was lip syncing her Billboard Music Awards performance.
People on Twitter are seriously wondering if this 1960s icon was lip syncing during this evening's performance of "Believe."
Elite Daily reached out to Cher's reps for comment on her performance this evening, but hadn't yet received a response at the time of publication.
Just to clarify, these are comments circulating on Twitter.
This Twitter user seems convinced Cher was lip syncing.
She appeared to be singing live during her second performance of the night, "If I Could Turn Back Time," and totally slayed it. Because she's Cher, of course, and we all love her endlessly.
Fans also praised Cher on Twitter.
Everybody was rocking, because Cher is queen.
Korean pop band BTS is literally all of us in the above video, am I right?
The 71-year-old singer has been performing for 50 years, and has never failed to inspire us all with her impeccable vocal skills.
An impressive 100 million of Cher's records have been sold around the world. In addition, Cher is currently the one and only artist to achieve a "number-one" Billboard chart single, every 10 years since the 60s.
This amazing performer has received a Grammy Award, an Academy Award, an Emmy Award, a Cannes Film Festival Award, a CFDA Fashion Award, and three Golden Globe Awards in addition to other achievements.
It's definitely clear as to why Cher is known as the "Goddess of Pop." This woman knows how to entertain the fans!