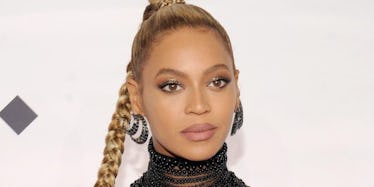 It Looks Like Beyoncé Skipped The 2017 Billboard Music Awards, And We're Crying
Getty Images
Hopefully, you're sitting comfortably on the couch with wine and a bucket of chocolate-covered popcorn, because the 2017 Billboard Music Awards is going down.
Everyone's slaying it on the red carpet as we speak.
The star-studded affair is hosted at the T-Mobile Arena in Las Vegas, and this year's nominees for Top Artist include The Weeknd, Beyoncé, Drake, The Chainsmokers, and more of our favorites.
Naturally, the number one question that has been stressing every single one of us TF out is: Will Queen Bey grace the event with her *goddess* presence?
Just last week, rumors circulated Twitter that Bey already had her baby shower at the Ice Cream Museum in LA, smack dab on Mother's Day.
The Bey Hive was v. suspicious, and had good cause to back up their claims.
Tina Lawson uploaded pictures at the museum on Mother's Day, and one photo stood out in particular. She struck a pose in the front of a pink and yellow backdrop of lemons.
UM, Lemonade, much?
Gwyneth Paltrow and Chris Martin hit up the Ice Cream Museum the same day, too, to celebrate their daughter Apple's birthday.
Beyoncé finally took to Instagram yesterday to blast all of our feeds with pictures of her sweet baby bump rocking a matching outfit with Blue Ivy for Mother's Day... at the Ice Cream Museum.
But we found out today the queen has been very busy this weekend, as she officially celebrated her baby shower, aka "Carter Push Party," yesterday afternoon. She was surrounded by friends and family, including Serena Williams and Kelly Rowland.
Whether or not Beyoncé will casually make an extremely fashionably late entrance to the 2017 Billboard Music Awards, is to be determined. As of this moment, it doesn't look too promising in my opinion.
We'll be truly disappointed to not see you and that sweet baby bump of yours tonight, Bey. But you take care of you, and we look forward to hearing exciting baby news very soon!