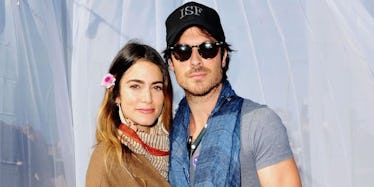 Ian Somerhalder Wrote The Sweetest Note For Nikki Reed And Your Heart Will Melt
Jerod Harris/Getty Images for PTTOW!
Ian Somerhalder and Nikki Reed took a break from social media during the first month after the birth of their baby girl. But now, that month is over, and they're posting online again! And naturally, it's about each other. Ian Somerhalder's Instagram about Nikki Reed is the sweetest thing you'll see all week.
Somerhalder and Reed welcomed their baby girl, Bodhi Soleil Reed Somerhalder, on July 25, and they reportedly didn't let anyone meet the baby until that first month was up. They wanted those precious first weeks to be between just the three of them. The new father dedicated the heartfelt post from Monday, August 21, to Reed saying how beautiful she was through pregnancy and now through motherhood, and how much he admires her for all of it. It's seriously the most romantic thing you'll see between a couple who both got famous for playing vampires. Somerhalder's caption read,
Just a quick note to you my beautiful wife. You are briefly napping on the other side of the room after being an amazing mom all night so you'll read this when you wake... seeing these images reminds me of those amazing 9 months that you sacrificed your whole being to grow our little one. The kindness, the beauty and organic nature of these photos makes me so very proud. You brought such fun and such power into our lives being pregnant but you literally brought the word sexy into pregnancy, we all see it. Thank you for being my partner in this life and thank you for inspiring not just me but all others who read, hear or see what your soul gives us. Love, [Your] husband
I think my heart just grew seven sizes???? This is the most romantic thing I've ever seen. These two are perfect for each other. (Do you think they ever talk about doing a Vampire Diaries/Twilight crossover? I'd be alllllll for that.) Somerhalder's post included pictures from Reed's cover shoot for FitPregnancy — an outlet that highlights moms-to-be and their healthy lifestyles.
Just hours before Somerhalder posted his love letter to Reed, the couple watched the solar eclipse together with some makeshift eclipse glasses, aka a bunch of sunglasses stacked on top of each other. Reed captioned the hilarious post,
Honey you sure you can see through those?! The only way to watch the solar eclipse brought to you by my husband, inventor of all things practical
Do you think they made Twilight jokes during the eclipse? I really hope they did. Anyway, Somerhalder and Reed welcomed their daughter Bodhi on July 25, 2017. They announced the pregnancy when Reed was already far along in May in matching Instagram posts. Reed captioned her post,
Hi Little One I know you, but only because I feel you. How is it possible to love someone so much already? All I know for sure is it's the strongest feeling I've ever felt. We've been sharing this body for quite some time, and we've already experienced so much together. We can't wait to meet you... Love Your parents
It is seriously impressive that they were able to keep the pregnancy a secret for seven months. Somerhalder posted the same photo with the caption,
To our friends, family, and rest of the world. In my 38 years on this earth I've never experienced anything more powerful and beautiful than this. I can't think of anything more exciting than this next chapter and we wanted you to hear this from us first. This has been the most special time of our lives and we wanted to keep it between the three of us for as long as possible so we could enjoy this time with each other and our little one who is growing so fast...because that's what they do, they grow so fast. Thank you for your kind energy. Love, Ian
I can't with any of this. DO YOU HEAR ME? I'm done.