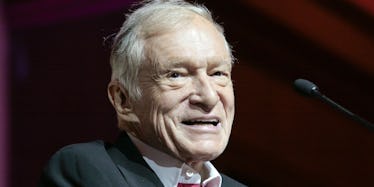 Hugh Hefner Rumored To Be Extremely Sick But His Team Says He's Doing Fine
REUTERS
Mixed reports are coming out of Hugh Hefner's corner after the Playboy founder was reported to be "super sick."
According to Page Six, the 90-year-old legend is said to be experiencing serious health issues resulting in rapid weight loss.
After all, it wouldn't be too surprising. Hugh has been dealing with a few health issues over time, including back pain.
Not to mention, the man is 90 -- he's lived a full life, and he is human just like the rest of us at the end of the day.
An anonymous source spoke to Page Six, saying,
[Hefner] looks like he is down to around 90 pounds and super sick. His people are really trying to keep this under wraps. You even have to sign a confidentiality agreement to go up to see him.
Despite these claims, Hugh Hefner's team says this is simply not true. A representative issued a statement regarding Hef's health and the recent claims, explaining,
It is no secret that over the past few years he has suffered with back pain that has made it a bit more challenging for him to get around. At 90 years of age he is enjoying his life and still very involved in the day-to-day activities of editing the magazine.
In the past, reports regarding the state of the Playboy mansion surfaced on the Internet after model Carla Howe spoke to The Sun, revealing,
The Playboy mansions is no longer a place of excess with orgies and topless girls. Hef is so frail he goes everywhere with a group of nurses.
Let's hope the rumors about Hugh Hefner's current health situation aren't true -- but if they are, who freakin' cares?
This is Hugh Hefner we're talking about -- the man, the myth, the Playboy himself. Let the man live. He CRUSHED life!
These days, Hugh Hefner spends his time at the world-famous Playboy mansion in Beverly Hills despite the fact that he sold it to investor Daren Metropoulos for $100 million.
Part of the agreement stated that Hefner was able to live at the mansion for the rest of his life while paying $1 million per year in annual rent.
In other words, he's still owning life. Long live Hef!
Citations: Playboy Founder Hugh Hefner Rumored to Be "Super Sick," Down to 90 Pounds (Complex)