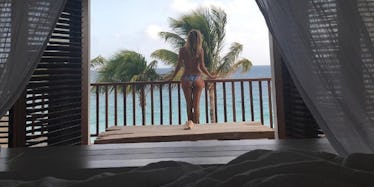 Heidi Klum Is Classy AF In Three Topless Photos From Her Beach Vacation
Instagram
I cannot believe Heidi Klum is 43. She looks incredible, especially in these underwater photos where she decided to opt out of wearing a bikini top.
She uploaded the shots Thursday to show off her new heart shaped necklace on Instagram, as well as her perfectly toned body.
The supermodel shared not one, but two topless underwater photos and continued the streak with one more Friday morning.
I guess she's having a really good time on vacation with her fam in the Caribbean.
Very topless, but also very classy.
Heidi, we totally feel you. If you were wearing a full bikini, it would have distracted from the gorgeous necklace.
"Love my new necklace," she writes.
Yup. We love your heart shaped necklace too, Heidi.
OK, what I really want to know is what type of camera gear she was using to take these. Maybe her boyfriend, Vito Schnabel, snapped the racy pictures?
Looks like Heidi really knows how to vacation.
Even when she's outside of the water, she's not putting that bikini top on. Good for you, Heidi.
I plan on doing the same thing next time I vacation on what seems to be a private beach like the "Project Runway" star.
Citations: Heidi Klum Goes Swimming Topless, Posts Pics to Instagram (Entertainment Tonight)