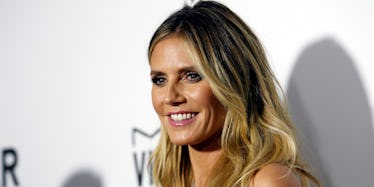 Heidi Klum Says She'll Still Go Topless At Beach When She's 60, Is Our Hero
REUTERS
Ever wonder what being 60 years old might be like?
Well, Heidi Klum is setting the bar pretty high.
The 43-year-old model and television personality might not be a 60-year-old yet, but she does plan on living her very best life when she is.
And how might she do that, you ask? By going topless on the beach regardless of what anyone thinks. Screw society's expectations of 60-year-old women. Go topless on the beach and love yourself!
So, how did Heidi's topless ways even come up in conversation? She's debuting her new swimwear line this week. Her goal? Well, while most people might cover up due to their lack of confidence, Heidi Klum wants people to do the opposite.
She just wants to make people feel sexy and comfortable in their beachwear.
In a recent interview with People, Klum said,
With style and clothes and swimsuits or lingerie, it doesn't change with age. I love fashion and I love showing off my feminine assets. I still feel sexy and I want to look sexy and so it doesn't matter that I'm 43 instead of 25.
Heidi Klum also plans to stay away from all of the new swimwear designs that might look good on models during photoshoots, but not on the average person looking for some fun in the sun.
The former Sports Illustrated cover model continued,
Everyone is trying to put 5,000 straps and weird cutouts [on swimwear]. That works well on photo shoots, but it doesn't look so great on everyone at the beach. I like classic silhouettes that you pep up with beautiful prints and textured fabrics.
Heidi then went on to talk about how her inspiration just stems from her love for showing off her body at the beach, saying,
I'm also probably going to be the girl on the beach with no top on when I'm 60. Maybe my stomach and my boobs are not going to be the same way they are now. But it's just who I am. I am more of a free person. I'm more nudist that way. I'm fearless. I don't think that will change. I'm gonna be that 60-year-old woman laying on the beach with just my bottoms on.
The mother-of-four says "a body is still beautiful when it gets older," further adding,
You don't have to hide your self under a tent just because you don't have skin like a 20-year-old anymore. I feel comfortable in my skin. But who knows? Maybe that will change in 20 years. But I feel like you have to just be open and have fun with it. Especially now — anything goes.
She's right. Get out there and show off the goods if that's what makes you happy. At the end of the day, it's your body and your choice to make.
In other words, take some notes from the first-ever German model to become a Victoria's Secret Angel... You'll be feeling invincible in no time!
Citations: Heidi Klum Vows to Be Topless on the Beach at 60: 'It's Just Who I Am' (People)