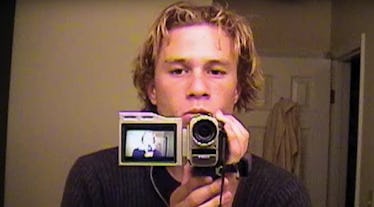 Heath Ledger's Sister Opens Up About His Documentary: 'I Screamed And Cried'
Spike
Heath Ledger died on January 22, 2008, at the age of 28.
Nearly a decade later, the actor's life, which was famously plagued by his deep dives into his iconic movie roles, is being remembered in the documentary "I Am Heath Ledger."
The film, which recently premiered at the Tribeca Film Festival, promises to stir up an incredible mix of emotions.
The 90-minute documentary will premiere on Spike TV later this month and will feature exclusive, archival footage of Heath -- whose role as the Joker in 2008's "Dark Knight" won him a posthumous Oscar -- as well as interviews from his close co-workers, friends and family.
Heath's older sister, Kate, who is featured in the film, opened up this week about what it was like seeing the movie for the first time.
She told Australia's "The Project,"
None of the footage that's shown in the film actually came from the family. In fact, I didn't even know it was in there until I saw it myself.
Kate, who said the entire family gave the documentary their blessing, continued,
[It was] incredibly emotional. I think I screamed and cried through the whole first viewing. It's quite a cathartic experience, especially for our family.
Speaking on one scene in particular, in which Heath is shown as a kid wearing a Batman t-shirt, Kate revealed,
That was on a cruise ship we went on as a family. Mom knew there was going to be a dress-up night so she had organized costumes ahead of time. But yeah it was kind of a surreal experience, I suppose, for him to go on and be in a Batman movie.
Kate also said the documentary has the full blessing of Michelle Williams, with whom Heath shared a daughter, Matilda.
She said,
[Michelle's] an artist and I think she's beautifully represented in the film. And that was her prerogative. I don't think she needs to be in it — she's represented. That was just a personal, private decision which we all 100 percent respect.
Previously, Kate told People she sees "I Am Heath Ledger" as a gift to Matilda, who is now 11, saying,
It's almost like he had actually filmed the documentary himself and pieced it together for her.
"I Am Heath Ledger" premieres Wednesday, May 17, at 10 pm ET on Spike TV.
Citations: Heath Ledger's Sister Kate 'Screamed and Cried' While Watching His Documentary for First Time (People)