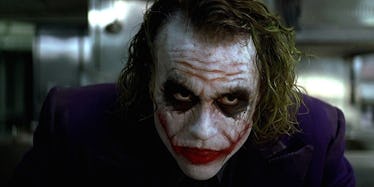 Heath Ledger's Apartment Where He Died Was Reportedly A Shrine To The Joker
DC
Heath Ledger reportedly turned the apartment he eventually died inside of into a shrine for The Joker before he passed.
This according to new findings by the New York Post that were confirmed by an inside source, the star of 2008's "The Dark Knight" took his obsession with the character to a whole new level when decorating his SoHo residence.
Reportedly, when police responded to Ledger's apartment they found it full of Batman comics and literature on the Joker and clowns. They also found small clown statues and recordings of Heath practicing his Joker voice in lower and higher octaves.
The apartment was observed to be "immaculately clean."
The source told Page Six,
He was studying up on the origins of clowns and all of the previous Jokers like Jack Nicholson's character and Cesar Romero's, who was the first Joker on TV… He was trying to make his role different from the roles of the other actors. He was even studying how to make his voice different from theirs.
Continuing, the source added,
He was a perfectionist who clearly had a lot of respect for the character. All of that stuff was very tidy. He cared a lot about it.
According to official reports, Ledger died due to "acute intoxication by the combined effects of oxycodone, hydrocodone, diazepam, temazepam, alprazolam and doxylamine."
The actor's unhealthy relationship to his character in "The Dark Knight" has been fairly well-documented in the past.
A movie titled "Too Young to Die" came out in the year following his death that focused primarily on a diary Ledger kept during the filming of the movie.
Before his death, Ledger was interviewed by Empire Magazine about his portrayal of the Joker where he chillingly recalled,
I sat around in a hotel room in London for about a month, locked myself away, formed a little diary and experimented with voices — it was important to try to find a somewhat iconic voice and laugh. I ended up landing more in the realm of a psychopath — someone with very little to no conscience towards his acts. He's just an absolute sociopath, a cold-blooded, mass-murdering clown … Nothing intimidates him, and everything is a big joke.
Heath was 28 at the time of his death.
Citations: Heath Ledgers NYC apartment was a shrine to the Joker (Page Six)