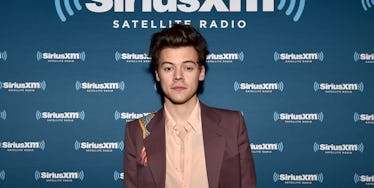 Harry Styles' 'Dunkirk' Director Didn't Know He Was Famous During Casting
Emma McIntyre/Getty Images for SiriusXM
It's hard to believe that in 2017, there's anyone on the planet who hasn't heard of One Direction, but apparently there is — and he cast Harry Styles in a movie.
Dunkirk director Christopher Nolan told the Associated Press on Friday that he hadn't really grasped how famous Styles was when he cast him in the upcoming war drama. "I don't think I was that aware, really," he said.
I mean, my daughter had talked about him. My kids talked about him, but I wasn't really that aware of it. So the truth is, I cast Harry because he fit the part wonderfully and truly earned a seat at the table.
Nolan, who's known for films like Inception and The Dark Knight trilogy and has worked with Oscar-winners like Leonardo DiCaprio and Anne Hathaway, continued on to praise Styles' acting. "What I'm hoping for, when people see the film, is I'm hopeful that they won't miss what he's done, because it's very subtle, very truthful and real," he said.
Aw, what a sweet validation!
Styles plays a British solider during the real-life World War II evacuation of Dunkirk, also called The Miracle of Dunkirk. During the evacuation, some 338,000 Allied soldiers, trapped in France and surrounded by German troops, were rescued over the course of nine days in 1940, many by private citizens (including a former officer on the Titanic) in small boats.
It's Styles' first foray into film, and it sure seems like it's going well!
Clearly, his boss likes his work.
Styles told the AP that his One Direction bandmates were supportive of him branching out. "I think they're excited to see it," he said. But he's not sure whether he'll stick with acting, go back to music, or aim for somewhere in between. "I haven't really thought about it too much," he said.
Well, he has plenty of time to decide. He only just released his first eponymous studio album, Harry Styles, back in May, after teasing it for weeks with releases of singles and videos. And he does have that world tour coming up as well, which should give him plenty of time to figure out where he'll take things next.
If he does choose to do another film, directors will probably know who he is by then.