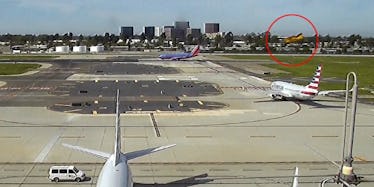 Insane Vid Of Harrison Ford Flying Over A Plane Is Right Out Of 'Indiana Jones'
John Wayne Airport
On February 13, Harrison Ford cheated death by accidentally flying directly over an American Airlines 737 at John Wayne Airport in Southern California and living to tell the tale.
Instead of setting down on a parallel runway, Harrison landed on a taxiway (and almost touched down on 110 passengers and six crew members inside the 737 AKA what would have been the worst touch down since the Patriots' overtime win at Super Bowl LI).
As of Tuesday, video was released showing exactly how close of a close call this was, and it's straight-up right out of "Indiana Jones."
What are the odds this could have resulted in a tragic crash?
Oh, sorry, Harrison. You're absolutely right.
Here's the moment once again. You can literally see the shadow of Ford's single-engine Aviat Husky's on the 737.
Han Solo? More like hun, you're so low you almost crashed your plane into another plane.
In audio that was previously released, Harrison asks air traffic control,
Was that airliner meant to be underneath me?
This is the Harrison Ford-equivalent of asking:
Of course, this isn't the first death-defying feat Harrison has recently performed.
Back in 2015, Harrison crash-landed his plane on a Los Angeles golf course like the total living, breathing legend he is.
The FAA is currently investigating the February 13 incident, but I sincerely hope they don't take away his private pilot's license.
When he's not portraying the president of the United States and telling terrorists to...
...He's an incredibly skilled and experienced pilot.
We'll see what happens, but as long as he doesn't describe his aerial abilities to the FAA like this, he should OK:
Although, I will say this is further proof I will never try to learn how to be a pilot.
There's too much that can go wrong and if there's someone who will mess something up, it's me.
Citations: Video Shows Harrison Ford Fly Over Airliner at California Airport (NBC News)