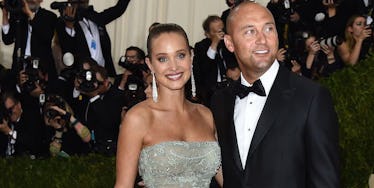 Derek Jeter And His Model Wife Are Having A Baby, Will Be Hottest Parents Ever
REX/Shutterstock
GET READY FOR ONE FUTURE HOT FRIGGIN' BABY!!!!
Hannah and Derek Jeter are officially welcoming a new lil' Yankee into the world.
The 26-year-old Sports Illustrated model made the announcement in an essay she wrote for The Players' Tribune about her husband Derek Jeter, the former Yankee and baseball legend.
In the article she wrote,
Timing is everything. On May 14, the Yankees will retire Derek's number. It's a significant moment, and one that's had me thinking a lot about the end of his playing career — those last two years for him as a player, that also happened to be the first two years for us as a couple. Big moments have a funny way of doing that, I think — of getting you to look over your shoulder and reflect. Big moments also have a funny way of making you look ahead. Now, pregnant with our first child, Derek and I are looking to the future.
She revealed they are expecting a baby girl. She went on to say,
Derek and I will want our children to understand that the lives they've been given are so fortunate, in so many ways. We'll want them to learn to help others, and to care for others, and to give back to the world. We'll let them know that they are strong and smart, and that they can do anything they put their minds to. I hope they'll be honest like their father. I hope they'll be stubborn like me. I hope that they know what they want and won't settle for less. And if they want to play baseball, well, we're gonna have a little talk first.
I'm going to go on record and say there is nothing wrong with calling a future baby "future hot." It gets weird when the baby comes out of whatever womb it was cooking up in, but until that point it's totally fair game to talk about how one day it's going to be a smokeshow.
We have no idea what the baby looks like in there, so really it's just about doing the hotness math based on what the kid's parents look like.
I MEAN, HOW IS THIS BABY NOT GOING TO BE STRAIGHT-UP FIRE?
I'm a Met fan and I still fully endorse this baby.
LGM.
Citations: Hannah Jeter Is Pregnant! Model Expecting Baby Girl With Derek Jeter (E!)