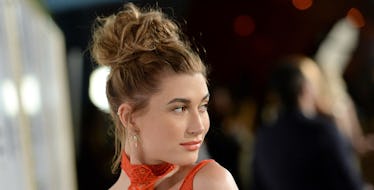 Hailey Baldwin's Beautiful New Tattoos May Be Small, But Have A Big Meaning
REX/Shutterstock
Being famous is great — if only for the freedom it allows you to ink yourself up with teeny tiny tattoos you can remove as soon as time turns them into a series of indiscernible skid marks across your body.
Hailey Baldwin — who has already allowed Kendall Jenner to design a few of her itty bitty ink blots — headed back to celebrity tattoo artists JonBoy to add a couple selections of her own.
One new addition reads, "coeur d'alene."
"Coeur" is French for heart and Alene is not-so-coincidentally the middle name of Hailey's sister, Alaia.
Next, Hails opted for a teensy cross on her neck.
For when you believe in Jesus, but only jus' a leeeeeeettle bit.
According to Teen Vogue, the model is a regular at New York's Hillsong Church and maintains a close relationship with God.
She told the site,
I was raised in church. I was brought up in that life, and I think that it's very important for everybody to be in touch with their spirituality and to have a relationship with God. Not everybody is going to believe in the God that I believe in, but it's something that I'm not afraid to share with people because I know how it inspires me — how it positively affects my life.
As long as she has God on her mind, a Hillsong in her heart and a cross on her neck, the daughter of Stephen Baldwin is not about to let Hollywood distract her from what's important.
She added,
A lot of my closest friends, people that I trust the most, people that have been there for me the most are all people that are in my church. I think that's so big for me because if you have everybody in the same industry as you doing the same thing as you, it's easy to get a little bit wrapped up and… lost. My family and people that I have around me personally are the reasons why I think I'm able to stay very true to myself and very grounded.
We all have to keep our phenomenal asses grounded somehow.
Citations: Hailey Baldwin Gets Back and Neck Tattoos (Teen Vogue)