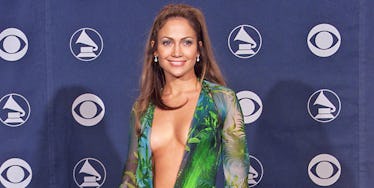 Google Images Was Created Because People Wanted To See Pictures Of JLo
We can thank JLo for many things: bringing Hispanic performers into the global spotlight, making us smell good with her seemingly never-ending collection of perfumes and creating some of our favorite dance anthems.
But according to Google's executive chairman Eric Schmidt, her biggest accomplishment is one none of us would ever have guessed: inspiring the birth of Google Images.
In January, the businessman took to Project Syndicate to tell the tale of JLo's monumental influence on the company:
So our cofounders Larry Page and Sergey Brin -- like all other successful inventors -- kept iterating. They started with images. After all, people wanted more than just text. This first became apparent after the 2000 Grammy Awards, where Jennifer Lopez wore a green dress that, well, caught the world's attention. At the time, it was the most popular search query we had ever seen. But we had no surefire way of getting users exactly what they wanted: J­Lo wearing that dress. Google Image Search was born.
Today, Google Images is the world's most popular search engine, with well over 10 billion images in its archives.
And why? Because the world had an insatiable hunger for JLo (and her bra-less boobs).
The more you know….
Citations: Google says J Lo is why we have image search (Quartz)