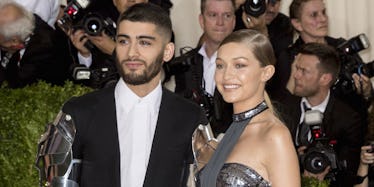 Gigi Hadid And Zayn Malik Are On Vacation In Tahiti And The Pics Are Unreal
Shutterstock
Sup, lonelies? You feeling left out of all these romantic summer vacations friends and celebs keep posting photos of themselves on with their lovers?
I know, poopy doodles. It can be hard to watch people kissing, cuddling and frolicking in the sun while you wonder if anyone will look you deep in the eyes again for something other than to see if you're lying about stealing snacks at work.
But, listen, you're not gross. Love is. Ugh, SO gross. YUCK!
Take these photos of Zayn Malik and Gigi Hadid, for example. Disgusting!
Gigi and Zayn's flawless bodies and angel faces roll around the beach like sweat droplets down the ass crack of a beanstalk giant.
When you apply that imagery, it starts to become clear how truly repulsive romance is.
Zigi went to Tahiti to celebrate summer and their "good" fortune in finding another person in this world who truly understands, appreciates and cherishes them.
#NEW Zayn and Gigi in Tahiti a few days ago! #8-9 (Aug 16) #MTVHottest Zayn pic.twitter.com/3Pz04wvRue — 1D Updates (@1DUpdateGR) August 18, 2016
ARE YOU VOMITING YET?
They're like two graceful sex swans just waiting to plunge their little swan heads into the dirt and pull out some delicious worms for lunch. BLECK, RIGHT???
Listen, ugh, I can't make them gross. As your loneliness consumes you, please know that I tried.
Citations: GIGI HADID & ZAYN MALIK STILL DRIFTING IN ONE DIRECTION (TMZ)