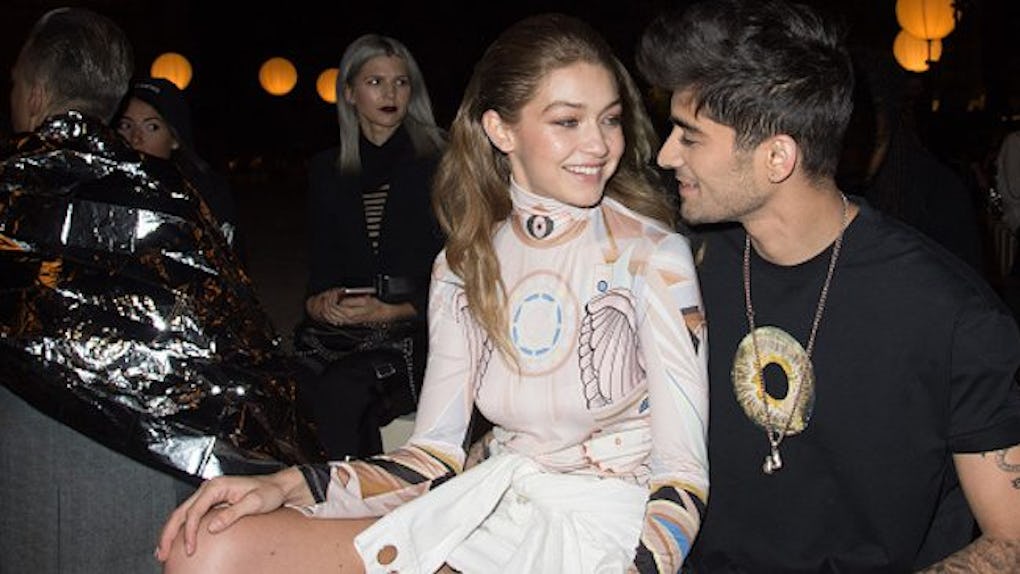 Stephane Cardinale - Corbis/Getty Images
Where Are Zayn & Gigi During The 2017 VMAs? Fans Are Wondering
Hollywood's hottest couple is missing in action, and naturally, fans are wondering: Where are Gigi Hadid and Zayn Malik at the VMAs? This year marks a great deal of accomplishments for the two. Malik continued to step out of the One Direction limelight and opt for a solo career while Hadid reigned as fashion's leading lady. The two even appeared together — snuggling in fall-like in plaid outfits — on the cover of the August issue of Vogue, where they discussed dismantling gender norms within fashion.
"With social media, the world's gotten very small," Malik said, according to Vogue, "and it can seem like everyone's doing the same thing. Gender, whatever — you want to make your own statement. You know? You want to feel distinct."
Speaking of making a statement, it looks like former bandmate Harry Styles also received a nom this year for his solo work, so we're hanging tight to see if the VMAs will produce some type of mini 1D reunion (fans can only hope). Malik is nominated for Best Collaboration with Taylor Swift on the super steamy Fifty Shades Darker single, "I Don't Wanna Live Forever."  Styles is nominated for the Best Pop category and Best Visual Effects for "Sign Of The Times."
Plus, Hadid is BFFs with Taylor Swift, who just premiered her "Look What You Made Me Do" video at the awards show, though she wasn't in attendance. Isn't Hadid curious how that all played out? Are these two (plus Malik) sitting on a couch somewhere eating popcorn and watching the show on TV? Guys, we need an update.
Regardless of who is hanging out at the show or at home, one thing is for sure: Swift's video shook social media, so her squad might take a backseat in the headlines after that one.
Oh VMAs, you always provide something bizarre for your viewers.