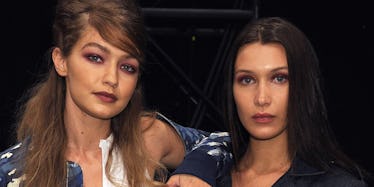 Gigi Hadid Posted The Most Adorable Throwback For Bella Hadid's Birthday
REX
Our main girls Gigi Hadid and Bella Hadid are constantly supporting each other with so much love on Instagram like the awesome sisters that they are.
This power duo defines goals in more ways than one, and it's clear these sisters are super passionate about being one another's cheerleaders.
Exhibit A:
SO, I wouldn't expect any less love shown today, which marks Bella Hadid's 20th birthday.
HAPPY BIRTHDAY, BELLA.
Gigi posted the most adorable throwback picture of the two of them to wish her sister a very special day, along with a sweet message attached.
She captioned the photo,
Happy Birthday to my baby sister. Your beauty and beautiful heart blow me away more every day. You make me more proud than you'll ever know, and I feel so grateful that we get to experience so much by each other's side. Can't believe you're 20!!!!!!!!!!!!!!!!!!! Love ya miss ya kiss ya
AWW, good one, Gig. This is certainly one for the books.
Gigi's picture of the girls when they were little is so dang cute, I seriously can't handle it.
Bella Hadid is getting SO many positive vibes on her birthday...
Hailey Baldwin also took to Instagram to wish Bella a happy birthday with a tropical picture of them chilling on a boat.
Kylie Jenner joined in on the birthday loving as well, with a spread they did together for Vogue magazine.
Before all of these birthday vibes, Bella herself went on Twitter to say something about her big day.
I think we can all relate to that. PREACH, Bella.
"We ain't ever getting older."
*Waits eagerly for The Weeknd to post a cute #CoupleGoals message for Bella*
Subscribe to Elite Daily's official newsletter, The Edge, for more stories you don't want to miss.