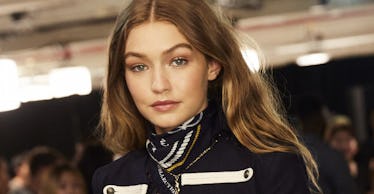 A Day In The Life Of Gigi Hadid Will Make You Feel Unproductive AF
REX/Shutterstock
I'm not exaggerating when I say Gigi Hadid may be my polar opposite.
Not only do we look nothing like each other (she's blonde, I'm brunette, haha that's it!), but our daily lives just don't align.
I fee like Gigi is a superhuman goddess and I'm just the piece of shit who slipped through the cracks. Oops.
The 21-year-old model sat down with Harper's Bazaar and gave us a sneak peek of what a day in her life looks like. I'm warning you now, once you find out WTF this girl accomplishes in 24 hours, you're gonna feel like a lazy shit.
If you want to feel unproductive AF, then keep reading. GIGI, WHY YOU TRYNA SHOW US UP?!
OK, let's get right to it. So, Gigi starts her day at 7:00 am on the dot. She explained,
On my days off I try to sleep in, which is my guilty pleasure. I will sleep past noon on some days but then wish that I had gotten up earlier.
WOAHHH, past noon? What a slacker. If I didn't work a full-time job, I'd probably be in bed naked til 8 pm every day.
While Gigi sits in her pjs looking perfect, she drinks orange juice and coffee and checks out what's happening on Twitter.
At 9:00 am, Gigi heads over to the Gotham Gym in the West Village to work out. She enjoys boxing since she can't ride horses or play volleyball in NYC.
Cool, well, Gigi already accomplished more in one morning than I have in my entire life. Let's keep going!!!
At 12:00 pm, Gigi grabs lunch at JG Melon in the West Village for a burger or gets an arugula salad from The Smile. Da fuck is arugula?
She shared her personal motto:
Eat clean to stay fit, have a burger to stay sane.
Wait... but then why are you eating a salad?!?!
At 1:00 pm, Gigi Hadid goes to Color Me Mine to paint detailed mugs. She likes to do this on her days off and can spend hours just coloring. Wow, what an artist!
When it hits 3:00 pm, the model will either go to a scenic spot to look at the city or go shopping at Saks. TYPICAL.
Around 4:oo pm seems like the craziest part of Gigi's day. When she was working with Tommy Hilfiger on their collection, she would spend hours in design meetings.
To give us an idea of her process, she shared,
I worked a lot with the textures first before we started getting into shapes because I wanted the clothes to feel good. I wanted the sweaters to be soft, and the coats to be a good thickness, and all of the little things. The second and third meetings were more about the details, like picking the buttons and putting the patches in the right places and fitting the clothes the way I wanted them to fit. I hope that people will feel the time we put into it when they put on the clothes because the quality was really important to us.
WHAT A BUSY GIRL. I have no sense of fashion whatsoever, so, like, mad respect.
At 9:00 pm, Gigi makes time for dinner and drinks with friends. If it's sushi, she hits up Bond Street. She also loves watching movies, cooking and listening to Broadway show tunes.
Damn, I'm in bed asleep at this point so kudos to you, girl.
When it's 11:30 pm, she watches an episode of "Girls" or "Prison Break" before bed. Then she hits the sheets and gets ready to do it all over again in the morn.
Sweet, well, BRB! Gonna go sign up for boxing and decorate mugs and stuff sushi in my face until I fall sleep. Bye!
Citations: Gigi Hadid Day In The Life (Harper's Bazaar)