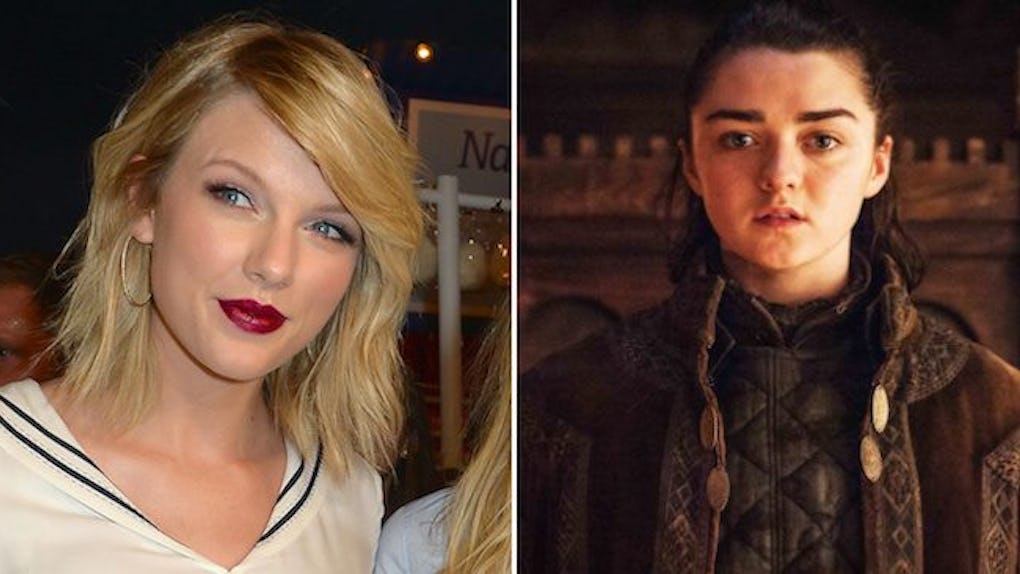 Gustavo Caballero/Getty Images/HBO
Jokes About Taylor Swift & 'Game Of Thrones' Arya Are Everywhere After "I've Got A List Of Names" Line
Unless you live on a remote desert island (in which case you probably wouldn't be reading this), you know the world's most famous country-princess-turned-pop-star-turned-dark-queen, Taylor Swift, released a new single for the first time in three years last night, Aug. 24. The song "Look What You Made Me Do" is a noticeably dark departure from the upbeat pop anthems that we're used to seeing from the wholesome star, but it bops. Naturally, the experts on Twitter just HAD to evaluate the singer's latest musical endeavor, and, while doing so, some particularly savvy fans have noticed major similarities between Taylor Swift and Game of Thrones character Arya Stark. Of course, as a result, jokes about Taylor Swift and Arya have consumed my timeline and, TBH, if there is one thing that could make Taylor Swift single release day better, this is it.
Most of the fans picked up on one line in Tay's song where she sings "I've got a list of names and yours is in red, underlined," and immediately compared Taylor's list to Arya's GoT hit list. Some people took guesses as to who might be on Taylor's list, some people suggested Arya might kill Ed Sheeran's character with Taylor Swift's face, some are lobbying for the bop to be Arya's theme song, and others think Taylor is more of a Cersei, LOL. One thing's for sure, though, laugh all you want, but I wouldn't wanna be on either of their lists.
Honestly, the comparison does make sense; it's not just the list, it's an entire persona. Taylor's new Reputation era attitude is all about saying goodbye to the former, weaker version of herself and welcoming a stronger, harder iteration into the world; indeed, if there's one standout line from Taylor's new song it's, "I'm sorry, the old Taylor can't come to the phone right now. Why? Oh 'cause she's dead!" If that doesn't give you intense flashbacks of Arya before she was a ruthless assassin, then I don't know what will. All I know is this better not be Taylor's way of hinting at a Game of Thrones cameo because I swear I'm still complaining to anyone who'll listen about Ed Sheeran's guest spot.