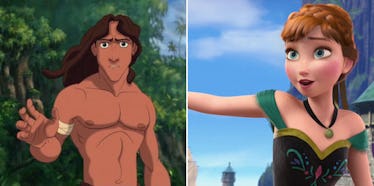 Tarzan's Sisters Are Anna And Elsa From 'Frozen' And Twitter Is Mind Blown
Disney
If you've watched as many Disney movies as I have, you've probably thought about the connection between the different films.
Whether it's Aladdin's magic carpet making an appearance in "Beauty And The Beast" or his lamp showing up in "The Princess And The Frog," there are little clues that hint there is a deeper underlying connection.
Well, one specific fan theory about the relationship between "Tarzan" and "Frozen" has essentially been proven true.
Are you ready for it? Because it's big.
Tarzan is Elsa and Anna's younger brother.
DON'T EX OUT YET -- THE DIRECTOR CONFIRMED IT.
Let me quickly set the scene for those who need a refresher on the films.
In "Frozen," Anna and Elsa's parents are thought to be killed during an awful shipwreck at the beginning of the movie. The two sisters end up being orphans and taking over the castle together.
BUTTTTTT,  how do we know their mother and father really died? What if the couple made it to land, built a tree house, had a baby and named him Tarzan?
Don't believe me?  Well, "Frozen's" director Chris Buck BASICALLY confirmed the theory.  He told MTV,
I think Jen [Lee, his co-director] and I were walking to a meeting, and I just started to tell her the entire story.
He continued,
I said, 'Of course Anna and Elsa's parents didn't die. Yes, there was a shipwreck, but they were at sea a little bit longer than we think they were because the mother was pregnant, and she gave birth on the boat, to a little boy. They get shipwrecked, and somehow they really washed way far away from the Scandinavian waters, and they end up in the jungle. They end up building a tree house and a leopard kills them, so their baby boy is raised by gorillas.'
Mic drop. You heard it from the man himself.
Buck actually spoke about the films' connection in 2015, but the theory has resurfaced and people are going crazy on Twitter.
Yup, mind = blown.
Citations: Tarzan And Frozen Connection (Metro)