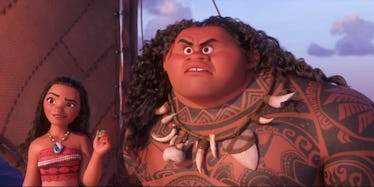 The First Clip Of 'Moana' Proves She's Going To Be The Best Disney Princess Yet
Disney
Auli'i Cravalho just dropped the first clip from "Moana" and it looks absolutely amazing.
This Thanksgiving, the island gods will be gifting us all with The Rock and Lin-Manuel Miranda's first Disney collab, "Moana."
Though we're still a little over a month away from the movie hitting theaters, you are now able to get a sneak peek at what the film has in store thanks to Auli'i Cravalho, who voices Moana in the movie.
Cravalho uploaded the exclusive first clip to her Twitter (Modern Twitter. Not the Twitter where you carve your autograph on an oar with a bird's beak!)
So excited to share the very first clip from #Moana with you! pic.twitter.com/xCkJiVFltA — Auli'i Cravalho (@auliicravalho) October 17, 2016
Eff, this movie is going to crush. The animation is gorgeous and The Rock can do no wrong as far as I'm concerned.
I'll literally watch anything with The Rock in it. Anything. Need proof? I watched "The Tooth Fairy" like three times as a kid and that movie's slogan was "You can't handle the tooth." It is cinematic magic.
OK, I'm done Rock fangirling... for now.
If that clip didn't get you pumped for "Moana," you can check out the full trailer here:
It's been a pretty eventful past few days for the cast of "Moana." They just did some big-time press for the movie in Hawaii over the weekend.
Auli'i and The Rock both got to unveil Disney's promotional "Moana" plane, which features characters from the movie drawn on the side of the plane's fuselage.
Also, not that you needed another reason to shell out money for a ticket, but "Hamilton" composer and low-key hottie Lin-Manuel Miranda scored the music for the movie.
So, like, in a weird way, seeing "Moana" is the closest most of us will ever come to seeing "Hamilton."