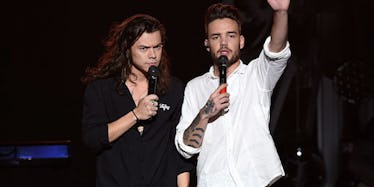 Fans Are Pissed At Liam Payne For Tweets After Harry Styles' Stepdad Dies
Kevin Winter/Getty Images for iHeartMedia
Harry Styles' stepdad, Robin Twist, died this week following a battle with cancer. Styles' fans are coming out in droves to send love and support to his family through the #RIPRobin hashtag on Twitter.
In true Styles fandom form, the hashtag is now one of the top trends, going to show just how much Styles' fanbase loves him.
The fandom also showed their massive love and support when fellow One Directioner Louis Tomlinson's mother died of cancer in December of 2016.
Say what you want about boy band fandoms, but in times like these, I'm sure Styles and Tomlinson are both feeling touched by their kindness and support.
Styles reportedly had a great relationship with Twist, who was partners with his mother, Anne, for years before they married in 2013.
Styles also has a close relationship with his biological father, Desmond Styles. Anne and Desmond reportedly got divorced when Harry and his sister, Gemma, were very young.
But fans aren't very pleased with fellow One Directioner Liam Payne's seemingly lack of reaction to the news of Twist's death.
Earlier today, Payne tweeted about a behind-the-scenes video for his "Strip That Down" music video.
He said, "Who wants to see behind-the-scenes of the #StripThatDown video?"
Fans felt it was poor timing, seeing as he hadn't posted any kind of support for Styles and his family, whom Payne was obviously close with after years of working so closely together.
The timing of the post is admittedly poor. But when it comes to celebrity accounts, a lot of tweets are sent out by their PR teams/scheduled in advance, so it's possible Payne himself wasn't the one tweeting about the music video.
But Payne just posted a heartfelt message on Instagram in honor of Twist.
He said,
Harry my heart really goes out to you such an extremely sad day for us all who knew Robin. What a kind, gentle and beautiful soul, a true rarity to find in today's world. Sometimes they really do take the best of us far too soon. X
So let's cut Liam some slack.