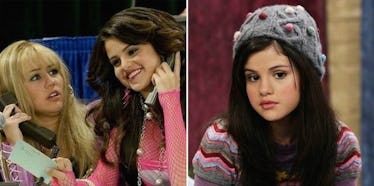 This New Theory About Selena Gomez's Role In 'Hannah Montana' Will Blow Your Mind
Disney Channel
It doesn't matter how much time has passed since any of us actually watched the Disney Channel, we will always be nostalgic for the good ol' days.
Along with that nostalgia for a much simpler time -- one that didn't include things like rent and taxes and credit card bills -- remains intrigue for any lingering fan theories about our favorite shows of the past.
Fueling that intrigue are mega pop stars like Selena Gomez and Miley Cyrus, who are super relevant today but really launched their careers with Disney.
All of that makes this particular fan theory about Selena Gomez's roles in Wizards of Waverly Place and Hannah Montana particularly mind-blowing.
Let's start at the beginning...
Gomez starred on Wizards of Waverly Place from 2007 to 2012. She played the part of Alex Russo, a typical teenager with magical powers.
True Selenators, however, will probably remember another famous Disney Channel show that Gomez appeared on first.
Back in 2007, Gomez played the part of Miley Cyrus' nemesis Mikayla in a few episodes of Hannah Montana.
All of that seems pretty straight-forward, but things start to get a bit murky when you remember a third Disney Channel original series with Selena Gomez ties.
Gomez appeared as Alex Russo in a crossover episode of Wizards of Waverly Place, Hannah Montana and The Suite Life on Deck. The episode was titled "Wizards on Deck with Hannah Montana."
Alex Russo and Hannah Montana don't have any interaction in the episode, but they're both on the same cruise ship, existing in the same universe.
This all leads to one big question: How can Selena Gomez be Alex Russo and also Mikayla if the characters exist in the same world?
In a viral tumblr post from 2016 (it's still being talked about a year later so you know this is internet gold), user wayfaringandwhatnot points out,
Both characters can't exist simultaneously unless Alex Russo created a pop star alter ego and used magic to never be recognized for it, yet this is never addressed and the series move on.
Are Alex and Mikayla the same person? If so, that must mean magic existed in the Hannah Montana, Suite Life, AND Wizards of Waverly Place worlds. Right? Right???
Hey Disney, want to comment on this theory? Inquiring minds need answers!