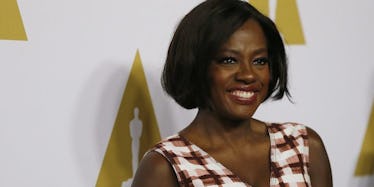 Gift Bag For The Oscars Makes You Realize How Much It Sucks Not Being Famous
REUTERS
Although the academy discontinued having an official Oscar Gift Bag over a decade ago, the "Everyone Wins" Nominee Gift Bag is an independent production curated by Distinctive Assets, which honors select nominees with some fabulous gifts.
The swag bag contains extravagant and eclectic gifts including travel packages to Hawaii and Italy, cutting-edge electronics, best-in-class beauty, art, personal sommelier services and even unique non-browning non-GMO Project certified Opal Apples.
Given to nominees in the Best Actor, Best Actress, Best Supporting Actor, Best Supporting Actress and Best Director categories, the swag bags are usually delivered to nominees in the week leading up to the show.
Distinctive Assets Founder Lash Fary hasn't given an exact price ticket for the swag bag -- past bags have racked up an impressive six-figure sum -- but he did clarify the company's goal, saying,
Our goal is not to increase the value each year as a great gift has nothing to do with the price tag, and we are desperately trying to move the conversation away from that point.
Award season's exciting climax in Tinseltown is rapidly approaching, with the 89th Academy Awards taking place on Sunday, February 26.
I connected with Fary to get a behind-the-scenes peek into how he curates the bag and see what special items are included this year.
What goes into curating the swag bag?
Fary: It is pretty simple. We seek out fun, fabulous, indulgent and even functional products and services. We aren't concerned with the price tag.  We simply want to compile a gift bag where busy celebrities can find new beauty products, off-the-beaten-path trips and even items to share with their children and pets.
How many submissions do you choose from?
Fary: We talk to hundreds of brands. They need to meet inclusion deadlines and fees of course. There is also first-come-first-served category exclusivity (some categories are more narrowly defined than others).
Do you take input from celebs from past gift bags or is it an independent curation?
Fary: We take a number of things into account to some degree: specific feedback via thank you notes, actual redemptions (or lack thereof) of gift certificates, what they are actually photographed wearing after delivery, etc. But mainly, we simply start building from scratch each year with a fresh slate. We opt for the more is more approach and hope that the items that might not personally appeal to them will be regifted with love and thoughtfulness.
What gifts are most appreciated by celebs?
Fary: For women, the best-in-class beauty products we always offer. For guys, any type of gadget. Trips are often difficult to redeem based on shooting schedules but we have had a number of past nominees take us up on our free vacation offers: Meryl Streep, Hugh Jackman, Ron Howard (he loved the Winvian Luxury Hotel so much he had his son's wedding there) and Mark Ruffalo.
The most popular gift to date has been the offer from Halo Purely for Pets for the nominee to make a 10,000 meal donation to an animal shelter of their choice; this was redeemed by Julia Roberts, Julianne Moore, Meryl Streep, Rosamund Pike, Ethan Hawke, Barkhad Abdi, June Squib and more.
How many "Everyone Wins" gift bags do you intend on giving out this year?
Fary: Twenty-five nominees and the host of the show.
Sultan of Swag is a hefty title, how have you been able to consistently deliver for 15 years?
Fary: We have done this Nominee Gift Bag for 15 years and just wrapped our 18th GRAMMY Awards. The consistency of delivering great gifts comes, I think, from the win/win nature of the program. The brands benefit by having world renowned influencers introduced to their products and services and the media coverage that accompanies that. The celebs benefit because they receive fun gifts and get to shop right from their gift bag. Everyone Wins on multiple levels.
Curious what is in the bag? Check out the full list below.
Travel
Koloa Landig Resort at Poipu  -- five nights/six day stay
Lost Coach Ranch -- private three-day mansion stay
Golden Door -- week of total mind, body and spirit renewal at the world's #1 destination spa
Grand Hotel Excelsior Vittoria -- three complimentary nights in the hotel located high on a cliff overlooking the Bay of Naples in Sorrento, Italy
Grand Hotel Tremezzo -- three complimentary nights in a Suite in the heart of Lake Como
Misc. items
Oomi -- smart home starter kit
Alexis Seletzky -- package of 10 personal training sessions
Belldini -- personally curated wardrobe
Namira Monaco -- limited edition pole star constellation pendant & brooch
jules k. -- luxury handbags
Casper -- dual-layer pillow
Oxygenetix -- 10-year supply of Oxygenating Foundation and Oxygenating Moisturizer
Park and Buzz -- hand-made baguette studs
The Loving Somm -- personal in-house sommelier services by NYC sommelier Lelañea Fulton
Yoga Jewelz -- 14K solid gold and diamond encrusted OM bracelet
Medice -- foot care kit
Hydroxycut Platinum
Opal® apples
Reian Williams Fine Art
Chocaltines -- Drunken Fig Cake Bites
Chubby Chipmunk -- designer book box with hand-dipped truffles
Mous Fitness Bottle
Rogue Maple 100% pure organic maple syrup
Muscletech Nitro-Tech® Crunch bars
Sweetcheeks cellulite massage mats
Woosh Beauty -- full Woosh Beauty Collection
Dandi patch -- underarm patch for sweat marks
Rest-Rite Sleep Positioner
Elvie -- pelvic floor exerciser
Slimware -- chic plates
Hapiest Tee -- luxury American-made t-shirts and sweatshirts
National Pecan Shellers Association freshly harvested pecans
Lizora -- Pu-erh Tea skincare
Chapstick
Bangarang -- Positive Cube wooden box with positive cards of affirmation
CPR Anytime -- kit from American Heart Association
Crayola -- customized box of 64-count Crayola My Way crayons
Curlee Girlee children's book
Watch Ya' Mouth party game