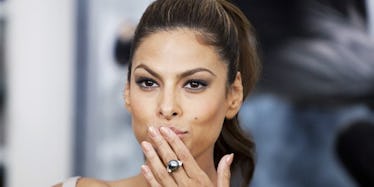 Eva Mendes' Workout Routine Is As Unfair As Her Relationship With Ryan Gosling
REUTERS
Eva Mendes' genes make absolutely zero sense.
The 43-year-old actress and long-time Ryan Gosling love THANG (I take that back. That was the dumbest thing I've ever written) sat down with Shape magazine for its April issue to talk about how she stays healthy.
Brace yourselves, though, Eva apparently does a maddeningly little amount of actual working out in order to look the way she looks.
Eva admitted staying in shape after having her second kid has not been the easiest task. She told Shape,
In some ways, it's been more challenging to get back in shape after my second daughter. Yet it's not as hard as I thought it would be, because I'm always running around with the kids. I never sit down -- I'm on the move all day... Working out allows me to spend time on myself. Knowing that I have an hour to dedicate to my wellness is a priority for me now.
GOT IT. EVA MENDES WORKS OUT AN HOUR EVERY DAY AND LOOKS LIKE THAT. COOL. DEF NORMAL.
For the hour-ish of workout itself, Eva said she sees solid results while doing intervals like sprinting and running with weights instead of just pushing to do 30 or 45 minutes on a treadmill.
She elaborated,
I'm off-season right now, so I work out three days a week. But when I'm getting ready for an event or in the summer, it's five days a week. I don't exercise more than that though, because I see better results when my body has a rest period.
That doesn't mean she isn't human.
Eva said as much as she did banish junk food from her house, she does have some moments of weakness and they usually involve her guilty pleasure, Cadbury Eggs -- yeah, THOSE Cadbury Eggs.
Yeah, I'm as confused as you are. Mendes told Shape,
The mini ones and the big ones with the filling... Sweets are my thing. It's ongoing, and I have to manage my sugar cravings constantly. I've gotten used to having something sweet after every meal, so I'm always bartering with myself, 'No, no, I can't have that after dinner, but maybe I can have it after lunch instead.' The kid in me thinks, 'I work out, so I can support my sugar habit.' I know that's not a very wise thing to say, but I really do feel like I'm working it off!
Cadbury Eggs?!?! REALLY? YOU USE YOUR CHEAT MOMENTS ON CADBURY EGGS?!!?!
Citations: Eva Mendes Stuns on the Cover of 'Shape,' Opens Up About Raising Kids With Ryan Gosling: 'I Love Being Home' (Entertainment Tonight)