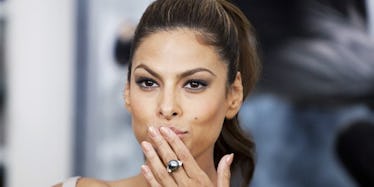 Eva Mendes Reveals Healthy Eating Trick At First Red Carpet Since Giving Birth
REUTERS
Eva Mendes is back, baby, and she looks amazing!
The 43-year-old actress reportedly made her first public appearance in six months when she stepped out on the red carpet at the opening of a New York & Company store in Miami.
Mendes was reportedly in attendance to help promote the debut of her new fashion line.
According to Cosmopolitan, the above turquoise outfit Eva Mendes rocked in Miami is from her new fashion collection.
Roughly a year ago, Mendes brought her second daughter into this world with partner Ryan Gosling, and she looks absolutely stunning.
Speaking on getting her figure back after giving birth, the 43-year-old "Place Beyond The Pines" star said,
In some ways, it's been more challenging to get back in shape after my second daughter. Yet it's not as hard as I thought it would be, because I'm always running around with the kids. I never sit down - I'm on the move all day.
Seriously, though, did Eva Mendes really get back into shape by just running around with her kids?
I mean, hey, I'm not taking anything away from the daunting task that is raising children, but in less than a year, Ryan Gosling's partner has managed to somewhat transform her body.
It appears, however, there is more to Mendes' figure than just being a great mom.
Speaking on the healthy eating trick she adhered to after giving birth to her 11-month-old daughter, Amada, Eva Mendes said,
I don't keep junk food at home anymore, because I'm trying to set a good example. So there are no more Krispy Kremes for me to grab.
Aha! So the key for the "Training Day" actress was to remove temptation all together! Bold strategy, Eva.
Speaking on what it means for her to be able to showcase her new fashion line, the 43-year-old said,
It is such a thrill to open more stores, especially in the Miami Area. I was born in Miami, so this city has always been dear to me.
Mendes also opened up about why she likes to stay off the red carpet and out of the public eye. She told Shape magazine,
What people don't know about me is that I love being home. Instead of hitting the red carpet, I'd rather be with our girls.
Get it, girl!
Citations: Eva Mendes makes first public appearance in six months as she launches fashion line (Cosmopolitan)