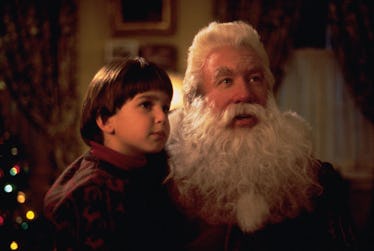 Charlie From 'The Santa Clause' Is Actually Really Hot Now
Buena Vista Pictures
Twenty-two years ago, Eric Lloyd set my 5-year-old heart aflutter, and not just because of my abnormal heart rhythm.
He had everything I was looking for in a man.
He was a little bit older, a little bit wiser, he had a perfect chestnut brown bowl cut, a stepfather who could prescribe medication and a biological father who was literally Santa Claus.
While packing for my trip home for Christmas, I included some old holiday movie standbys to watch with my family because the internet service is too slow to load Instagram so I can't even ignore them by looking busy.
Naturally, this includes the Tim Allen classic, "The Santa Clause."
While looking at the cover of the 1994 movie, I found myself musing out loud, "Yo, I wonder if Charlie Calvin got hot or nah?"
Thanks to a little internet sleuthing, I have concluded Eric Lloyd is still a thirst trap.
TBH I've always had a crush on Eric Lloyd. Ever since Santa Clause came out and still to this day (: he still so handsome (: pic.twitter.com/Rxa0sNkROm — Teanna (@AweBieberSmile) December 14, 2016
Well, well, well. Look how that perfectly coiffed bowl cut has matured into a carefully managed messy hairdo.
He's our Disney wet dream come true.
While he didn't take over the family business of becoming Santa (huge bummer, TBH, I was looking to become that trophy wife Mrs. Claus), he has since opened his own film and music production studio and played in a band for a while.
And who doesn't love musicians?
YO, SANTA, FORGET THE FRUITCAKE. PUT THIS BEEFCAKE ON MY CHRISTMAS LIST.
Lloyd is now 30 year old and married to Lisa Marie Tasker.
I suspect, if this Halloween costume serves as any foreshadowing, Eric Lloyd will continue to mature into not only the Most Interesting Man in the World, but also the hottest.
I will stay thirsty.
Oh, and if you're wondering what Charlie ever did with that snow globe from the movie?
He still has it...
(Awwwww.)
Except they didn't treat the water and it looks like this now.
Kind of lacking in Christmas magic...
So, congratulations Eric Lloyd. You officially aged better than a snow globe!
Citations: 'The Santa Clause' Star Eric Lloyd: Where He Is Now (ABC News)