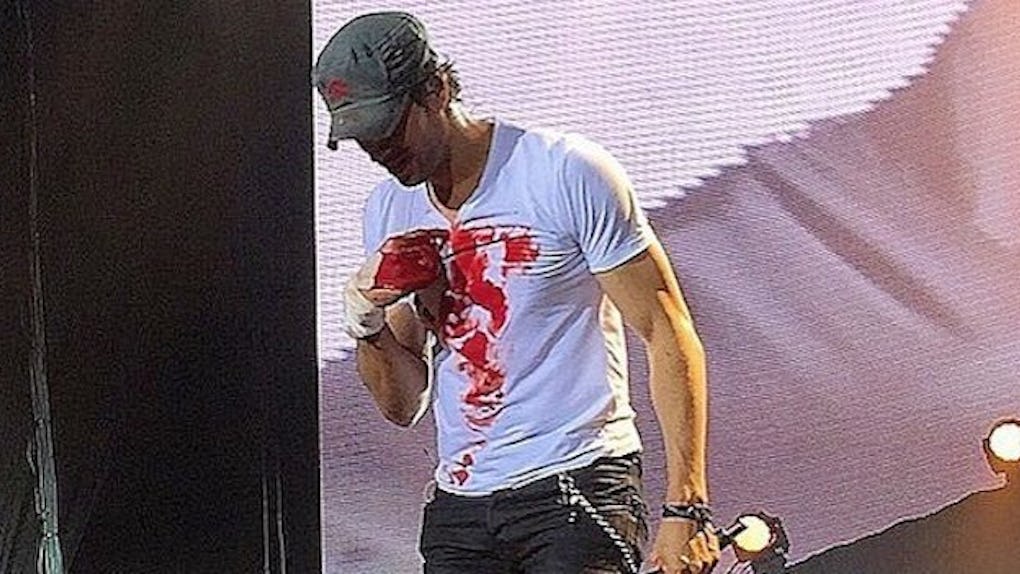 Instagram
Enrique Iglesias Cut His Fingers Trying To Grab Drone During A Concert
Enrique Iglesias was in the middle of a concert in Tijuana, Mexico this weekend when he tried to grab a drone flying above the stage.
The drone was capturing video of the concert, and Iglesias had hoped to share his point of view of the show with the audience.
However, Iglesias was unsuccessful in his attempt to grab the drone and ended up slicing the fingers on his right hand with the propellers.
Iglesias began bleeding profusely from his hand, a fact that was made all too apparent because of the white t-shirt he was wearing.
Iglesias received some medical attention on the side of the stage and ultimately performed for another half hour.
After the show, Enrique was treated in an ambulance at the airport. He will see a specialist in Los Angeles in the coming days.
The lesson here is simple: Don't grab drones, especially if you're a Latin pop star.
Here's what getting cut by a drone looks like:
It's not a pretty picture.
Enrique painted a heart with his blood.
@enrique305 Yesterday Enrique Iglesias had cut his hand during the concert with a drone and draw on his t-shirt pic.twitter.com/He78dlgu9X — Gonia@ENRIQUETTE (@Gonia68Gonia1) May 31, 2015
He did his best to hide his pain.
Entertainment News: Enrique Iglesias' Fingers Sliced After Grabbing Drone During Concert http://t.co/r51mP7qOYM pic.twitter.com/5Fk1HFAT4h — On-Air w/ Rick (@OnAirWithRick) May 31, 2015
And he continued on with the show.
Enrique Iglesias severely injured himself in concert and kept performing for 30 minutes: http://t.co/MsT2rI2v4M pic.twitter.com/cO8HTgHwUD — Us Weekly (@usweekly) June 1, 2015
What a trooper.
Enrique Iglesias recovering after fingers sliced by drone: http://t.co/ozODxrbkxH #PopStart pic.twitter.com/27QaHPgPup — TODAY (@TODAYshow) June 1, 2015
Citations: Enrique Iglesias sliced his fingers open trying to grab drone at concert (Mashable)