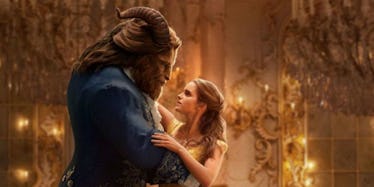 Emma Watson Uses A Pubic Hair Product That Sounds Like A Thing The Beast Has
REX/Shutterstock
As a lady (of the night), we are always searching for new ways to rid ourselves of pesky pubic hair.
Why? I don't know. It's just something we do now, I guess. But alongside a naked mons pubis comes a plethora of issues.
It's like the old witch who cursed me always said,
If you shave your downtown, your smile will turn to a frown. Ingrown hairs and razor burn shall surely abound!
Speaking of witch's curses, let's talk about "Beauty and the Beast." As we all known, the Beast was cursed by an enchantress because he had a shitty attitude and then, she made him covered in fur.
Emma Watson, who plays Belle in the live-action movie, is also apparently covered in fur, like all of us.
She recently told Into The Gloss,
It's funny — I was just talking to my friend before this about how in the Instagram era it's so easy to edit your life so that it looks perfect. But I bleach my top lip and tweeze my eyebrows and you'd never get to see that, even though it's a part of my routine. There's still so much shame around the things you do to get ready while you've got a towel wrapped around your head. It's important to me not to edit that out. I've been bleaching my top lip since I was nine. I don't do it very often, but I do it!
IT'S TRUE, LEFOU. MOST WOMEN BLEACH THEIR TOP LIPS, AND WE ALL HAVE TO TWEEZE OUR MIGHTY BROWS.
I mean, I don't bleach because the witch who cursed me with crippling anxiety and my train wreck of a face also gifted me soft, blonde body hair. But you take the good, and you take the bad.
Watson even mentioned a product she uses on the enchanted forest, which we're sure the Beast would approve of,
There's that, and I use Fur Oil. I'll use that anywhere from the ends of my hair to my eyebrows to my pubic hair. It's an amazing all-purpose product.
Fur Oil makes the hair softer and more manageable so I assume you're not hacking at it with a chainsaw.
Citations: Emma Watson Reveals Her Pubic Hair Grooming Routine (And Other Beauty Secrets)! (Perez Hilton)