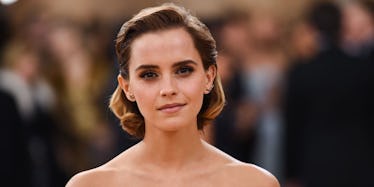 Emma Watson Shares Her Hangover Cure Because Even Princesses Get Drunk
REX/Shutterstock
We're just a few weeks away from Emma Watson lighting up the big screen as Belle in the live-action remake of "Beauty and the Beast."
In anticipation of the movie's debut, the 26-year-old Watson has been making the rounds, including starring in the most recent episode of "Derek Does Stuff with a Friend."
As you're about to see in the video below, Derek walked around Grand Central Terminal in New York City offering strangers the opportunity to ask Watson anything they wanted for the low, low cost of just $2.
Derek Blasberg walked the big hall at Grand Central and bellowed,
All right, guys, who's got $2 and a question for Emma?
That's right, $2 got some lucky folks some pretty sagely advice from the one and only Emma Watson.
So, what did Watson reveal?
Well, the 26-year-old Brit was asked a lot about love and relationships because it appears this segment was filmed on Valentine's Day.
In addition to her advice about being a "good boyfriend" and what to get the special lady in your life for Valentine's Day, Emma Watson also revealed her epic hangover cure!
One woman in Grand Central Terminal asked the "Beauty and the Beast" star,
What's your best hangover cure?
Watson didn't skip a beat and replied,
An English breakfast: sausages, baked beans. Are you hungover right now?
I mean, I've never had the full English breakfast, but it certainly looks like it would scare the hangover right out of you.
D-D-D-D-DAMN!
In addition to giving $2 advice to strangers in Grand Central Terminal, Watson also recently opened up to Vanity Fair about a variety of topics, including why she no longer takes selfies with her fans.
She said,
For me, it's the difference between being able to have a life and not. If someone takes a photograph of me and posts it, within two seconds they've created a marker of exactly where I am within 10 meters. They can see what I'm wearing and who I'm with. I just can't give that tracking data. I'll say, 'I will sit here and answer every single 'Harry Potter' fandom question you have but I just can't do a picture.' I have to carefully pick and choose my moment to interact. When am I a celebrity sighting versus when am I going to make someone's freakin' week? Children I don't say no to, for example.
True.
Don't forget, you can catch Emma Watson in "Beauty and the Beast" in theaters March 17, 2017.
Citations: Emma Watson Gives Strangers Advice for $2 at Grand Central | Vanity Fair (YouTube)