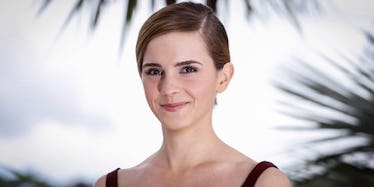 Emma Watson Binge-Watches One TV Show, And You Can Too On Netflix
REX/Shutterstock
Tale as old as time, song as old as rhyme, my Netflix account and I...
Sure, this is a slight (OK, major) edit of the "Beauty and the Beast" song, but the love between me and my Netflix is so very real. This is me in front of my TV 18.7 hours a day:
When Emma Watson isn't providing the perfect clap back at haters who are basically trying to control what she can and can't do with her body, she's binge-watching a show that you probably binge-watch... a lot.
And yes, it is on Netflix.
Can you guess which? All right, I'll provide three clues.
Perhaps you can think extra hard about which show it is when you're on a break from work -- you know, when you're having an unagi roll at lunch.
Two down, one to go. Um, pivot?
If you guessed "Friends," congrats! You're absolutely right.
In a recent interview with Coveteur, Emma admits she's a fan of the '90s sitcom,
It blows my American friends' minds, but in the UK, 'Friends' still plays. There's one channel that it's on basically all the time, and I will watch 'Friends' reruns forever.
What? The UK gets a whole channel dedicated to "Friends." Why? Why did we ever revolt from Mother England?
*Uses fake-sounding Cockney accent* BLIMEY! GOD SAVE THE GRACIOUS QUEEN! LONG LIVE THE NOBLE QUEEN!
*Googles "how to become a British citizen so I can watch 'Friends' all day, every day"*
Her reason for choosing to binge-watch "Friends" is pretty similar to my own reason. It's the perfect show to have on in the background.
Emma said,
It's one of those comforting things to have in the background that just kind of makes you feel like everything's going to be OK.
She's right. If it isn't your week or month or even your year, "Friends" will be there for you.
Citations: Emma Watson Can't Stop Binge-Watching This One TV Show (Huffington Post)