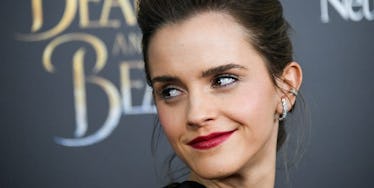 Emma Watson Answering Adorable Children's Questions Will Make Your Day
Getty Images
If you need a little inspo to get through the afternoon, Emma Watson's got your back.
The Beauty and the Beast star has gifted us with a q+a with her biggest fans... who happen to be a bunch of little kids.
"Where did you get these kids? They're all so cute. This is craziness," Emma exclaimed.
Squee!
In my opinion, all interviews should be done with little ones.
After all, kids do say the darnedest things, right?
Have a look for yourself and try not to "aww."
(Good luck with that.)
A sweet little 7-year-old named Audrey kicks things off with a question about Emma's favorite books. She is undeniably adorable and asked one of my favorite questions. As a bookworm myself, I always want to know what's on Emma's shelf, too, so I get it.
Then, 5-year-old Amira throws in a question for Belle, and Emma responds as Belle, because that's what you do when a toddler addresses you as your character.
Overall, it's the perfect mix of happiness, empowerment, and positivity as Emma gives us a glimpse into her life with the help of these tiny tots. You have to admit, these curious kids totally nailed their approach.
As per usual, Emma recently blew us away with her acceptance speech at the MTV Movie Awards for her Beauty and the Beast win.
But this wasn't just like any other award.
The star said at the event,
MTV's move to create a genderless award for acting will mean something different to everyone, but to me, it indicates that acting is the ability to put yourself in someone else's shoes, and that doesn't need to be separated into two different categories.
Between being an awesome feminist and devoting her time to some of her tiniest fans, we can't help but swoon over Emma.