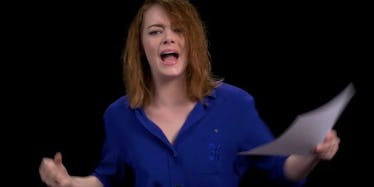 Emma Stone And Hailee Steinfeld Perfectly Troll Trump With 'I Will Survive'
YouTube
This video of Oscar frontrunners like Emma Stone and Natalie Portman singing Gloria Gaynor's "I Will Survive" is so many things.
It's hilarious, it's uncomfortable, it's silly, but it's also pretty powerful at some points.
Which, as it turns out, was exactly what W Magazine intended when they got all these A-list celebrities, many of whom publicly supported Hillary Clinton in the 2016 election, to recite these iconic lyrics.
W wrote in the accompanying article,
It's the kind of anthem we need now more than ever with the inauguration bearing down on us. With an impending Donald Trump presidency, I will survive.
Every actor interpreted the song in their own way — some enthusiastically singing and others reading the lyrics deadpan.
Andrew Garfield warned,
This is going to be interesting. It may get too real.
Emma Stone got really into her version, pulling out the dance moves.
"You have to march," she explained between lyrics.
Chris Pine belted out the lyrics with his "Into the Woods" voice.
Taraji P. Henson held back nothing with the most powerful interpretation.
While Andrew Garfield, unsurprisingly, had the weirdest interpretation.
Dev Patel and Marhershala Ali made the lyrics sound like poetry.
Natalie Portman delivered hers like she was giving a eulogy.
Hailee Steinfeld went with her best singing voice.
And Matthew McConaughey was VERY Matthew McConaughey about it, chewing gum the entire time.
The complete list of actors who participated in the video is: Emma Stone, Natalie Portman, Amy Adams, Chris Pine, Felicity Jones, Taraji P. Henson, Andrew Garfield, Naomie Harris, Michelle Williams, Dev Patel, Greta Gerwig, Hailee Steinfeld, Dakota Fanning, Joel Edgerton, Michael Shannon, Alden Ehrenreich, Anya Taylor-Joy, Ruth Negga, Lucas Hedges, Mahershala Ali, and Matthew McConaughey.
It's probably not going to save us from the impending fascist regime, but it's a nice, uplifting video.  That's real all we can ask for right now.
Citations: Celebrities Dramatically Perform "I Will Survive" in Honor of the Impending Inauguration (Cosmopolitan), Emma Stone, Natalie Portman, Amy Adams, and More Oscar Hopefuls Perform "I Will Survive" (W)