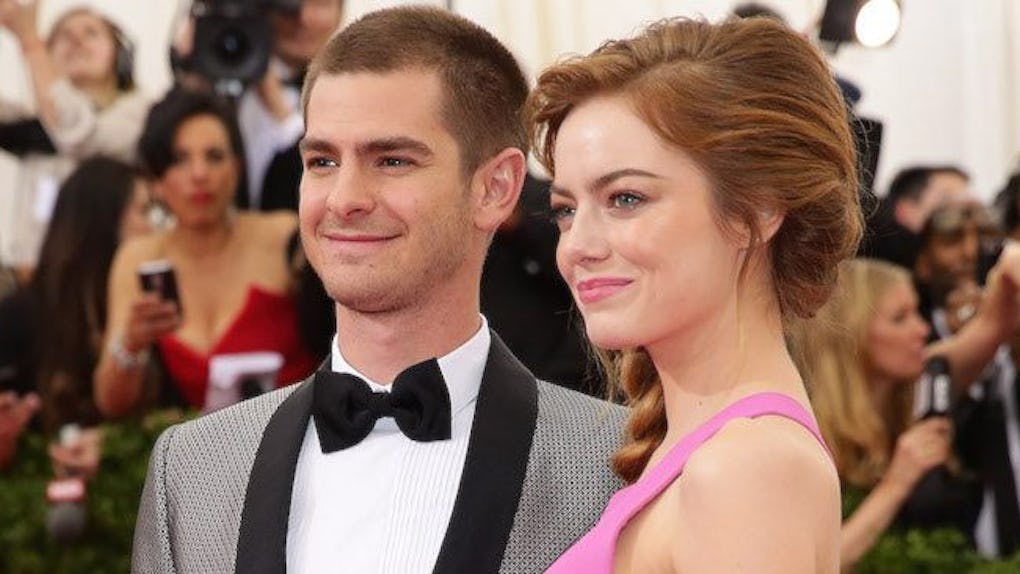 Neilson Barnard/Getty Images
Are Emma Stone & Andrew Garfield Getting Back Together? One Thing Is Holding Them Back
Emma Stone and Andrew Garfield broke up for good in 2015, but there have been a lot of rumors going around since that they might be reconsidering their breakup. So we're dying to know: Are Emma Stone and Andrew Garfield getting back together? According to reports, it's possible they might get back together; there's just one thing holding them back from doing so. If this is true, it might single-handedly heal the world from its Anna Faris and Chris Pratt heartbreak. No pressure, Emma and Andrew!
According to Cosmopolitan, the pair has spent a lot of time together recently. Stone has reportedly traveled to London to visit Garfield on occasion, and during a break from filming The Favourite in the UK in May, she popped on over to London to see Garfield perform in Angels In America. That's no surprise, though, given that they had a very amicable breakup and have said nothing but positive, supportive things about each other ever since they decided to call it quits.
A source reportedly told People that Stone and Garfield still love each other. The source told the outlet, "The feeling between them is still romantic," adding, "They never stopped caring about each other." Another source said Stone and Garfield would date again "if the timing is right," and now I feel faint.
Back during awards season, Stone and Garfield were both nominated for their respective work in La La Land and Hacksaw Ridge. They were bound to be asked about each other throughout their many interviews, and in one interview with Vanity Fair, Garfield gushed about his now Oscar-winning ex-girlfriend. He said,
I'll speak for myself: You know, I'm her biggest fan as an artist. I'm constantly inspired by her work. I'm constantly inspired by how she handles and holds herself. So for me, I've—it's been bliss to be able to watch her success and watch her bloom into the actress that she is. And it's also been wonderful to have that kind of support for each other. It's nothing but a beautiful thing.
Please, for the love of all that is still good in this world, GET BACK TOGETHER.