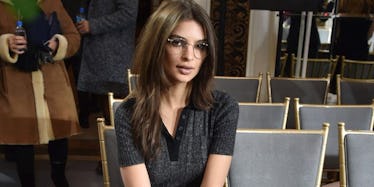 Emily Ratajkowski And Other Celebs To Attend Rally Instead Of An Oscars Party
REX/Shutterstock
Emily Ratajkowski, Keegan-Michael Key, Jodie Foster, Seth Rogen, Jai Courtney, Ted Danson, James Franco and several other Hollywood big-wigs are planning on skipping out on pre Oscar festivities so they can attend the "United Voices" rally.
United Talent Agency (UTA) released the following statement promoting the rally,
United Talent Agency (UTA) has canceled its traditional Academy Awards party and will instead host a rally at its Los Angeles headquarters on the Friday afternoon of Oscar weekend. The gathering – 'United Voices' – aims to express the creative community's growing concern with anti-immigrant sentiment in the United States and its potential chilling effect on the global exchange of ideas and freedom of expression.
In addition to the party change, UTA has promised to donate $250,000 to the American Civil Liberties Union and the International Rescue Committee.
The release continued,
The agency is witnessing the current controversy firsthand through the experiences of Academy Award-winning Iranian filmmaker Asghar Farhadi, a UTA client. Although nominated for an Oscar again this year in the best foreign language film category for 'The Salesman,' Farhadi has announced he will forgo the trip to the United States for the ceremony due, in his words, to 'the unjust circumstances' of the proposed US travel ban from seven predominantly Muslim countries.
Reza Aslan, Keegan-Michael Key, Jodie Foster, Tony winner Cynthia Erivo, Wilmer Valderrama and Michael J. Fox are all scheduled to speak at the event.
Sam and Casey Harris of X Ambassadors and DJ Cassidy are both scheduled to perform, as well as live portrait artist David Garibaldi.
UTA CEO Jeremy Zimmer wrote a letter to agency employees announcing the decision and said,
This is a moment that demands our generosity, awareness and restlessness. Our world is a better place for the free exchange of artists, ideas and creative expression. If our nation ceases to be the place where artists the world over can come to express themselves freely, then we cease, in my opinion, to be America.
The organization also launched a CrowdRise fundraising campaign, which has raised over $300,000 as of press time. Proceeds will be split between the ACLU and IRC.
Citations: United Talent Agency To Host 'United Voices' Rally On Weekend Of Academy Awards (PR Newswire)