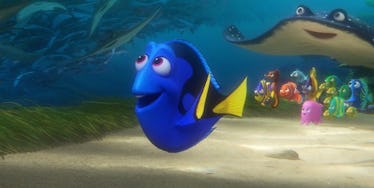 Ellen Shares Hilarious, R-Rated 'Deleted Scene' From 'Finding Dory'
Pixar
"I'VE HAD IT WITH THESE MOTHERFUCKIN' CLOWN FISH ON THIS MOTHERFUCKIN' REEF."
Hot take: Pixar movies are fine but they're not amazing. BOOM! I SAID IT! ARREST ME, INTERNET MEME POLICE!
Think about it, though. Pixar movies are not supposed to be amazing, they're supposed to be for kids.
Parents can go and appreciate them, but really think about it next time you call a movie like "Finding Nemo" or "The Incredibles" the "best movie of all time."
The best movie of all time? Really? "WALL-E" was better than "The Godfather"?
If someone ever tells you that, the only valid response back is,
That's bananas. Eat a Buzz Lightyear-shaped doody, you lying wang.
Companies like Pixar, Disney and whoever made "Frankenweenie" create movies with an inherent disadvantage when it comes to "best movie ever" status.
The films can't involve cursing, nudity, graphic death, guns or anything like that -- basically, everything that made "The Fast and the Furious: Tokyo Drift" the cultural touchstone it is today.
You know what happens if you take all that stuff out of "FAF3TD"? It's just "Cars," and "Cars" sucked.
While we may never know what a full-length R-rated CGI animated movie looks like, we do now know what, like, one minute of R-rated edited scenes from a CGI movie looks like.
Ellen DeGeneres recently had fellow "Finding Dory" alumus Ed O'Neill on her show. While he was there, the duo decided to release some "deleted" scenes from the movie that got left on the cutting room floor because they were too dirty.
How do we make this a regular thing? I would pay GOOD friggin' money to have Ellen make Pixar movies dirty.
Imagine if that red angry feeling from "Inside Out" was actually allowed to say what he felt.
"YOU'RE A FUCKING CHILD! STOP FUCKING BEING SUCH A FUCKING MISERABLE DICK, YOU UNGRATEFUL FUCK!"
"Anger, calm dow..."
"EAT MY FURY IMAGINARY RED ASSHOLE."
*Anger takes out a gun and shoots Fear*
"ANYONE ELSE HAVE AN ISSUE?"
That's my kind'a Pixar movie!