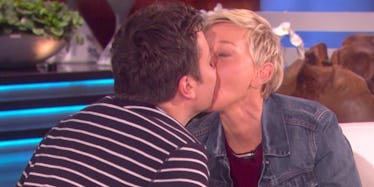 Ellen DeGeneres Kissed Jimmy Fallon On The Mouth And It Was Super Awkward
EllenTube
Turns out, Ellen DeGeneres and Jimmy Fallon locking lips is exactly as weird as it sounds.
It's funny too, of course, but in a "haha, I'm laughing because I want this to stop happening" sort of way.
It all started on "The Ellen DeGeneres Show," where Jimmy was a guest on Thursday to promote his upcoming gig hosting the Golden Globes this weekend.
Ellen had the "Tonight Show" host play a game of "Speak Out," where the guests wear one of those teeth retractors dentists use and then Ellen tries to understand what they're saying.
(And no, it's not a gynecology tool. Don't believe Ellen, ever.)
It turned out Ellen could actually understand everything Jimmy was reading (like, "I thought Tina and Amy were hosting!") pretty well, which basically ruined the punchline of the game.
The bit was saved, however, when after successfully reading all his phrases, Jimmy requested a kiss.
Ellen readily agreed, and, well they went for it.
It was very, um, toothy.
Right on the mouth, and very, very awkward.
I really hope for Ellen's sake Jimmy brushed his teeth right before he came out on the stage.
Don't worry too much about Nancy Juvonen or Portia de Rossi being angry with their spouses for promiscuity — it seems very unlikely either party here enjoyed that kiss.
I too, did not enjoy it. Let's just all agree that should never happen again, OK?
Earlier in the show, Jimmy also recounted some embarrassing award show memories — including the time he thought he was giving Smokey Robinson an award for his work with the UNICEF (United Nations Children's Fund), rather than the UNCF (United Negro College Fund).
He said,
I sat down in the theater, and I realized I was the only white person in there. ... I read the email wrong. Smokey has probably done a lot of stuff for UNICEF as well, I don't know.
Yep, that's pretty darn embarrassing!
Citations: Golden Globes Host Jimmy Fallon Kisses Ellen DeGeneres, Shares Most Embarrassing Awards Show Moment (Entertainment Tonight)