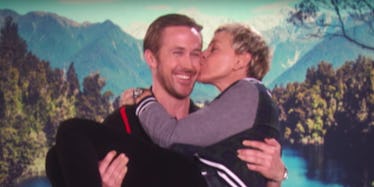 Ellen DeGeneres Reveals Emma Stone Wasn't First Choice For 'La La Land'
REX/Shutterstock
Emma Stone was pretty good in "La La Land," but MAN OH MAN do I wish it starred Ellen DeGeneres.
If you haven't seen "La La Land," you should probably shell out $14 (or however much you pay for movies in the flyover states) and watch it. It's really good.
It's honestly a little overrated, but it is a really beautiful movie and the story will give you *takes out hand fan* a case of the vapors.
The highlight of the movie is without a doubt the on-screen chemistry between Ryan Gosling and Emma Stone.
The music is fine and the dancing is really cool, but the two of them are fantastic together in the piece.
As is the case with every major movie, I couldn't help but wonder in the middle of the flick what it would be like if all the characters were played by Ellen DeGeneres.
What if she was the lead, the co-star, the romantic interest, the grouchy shop keep, the shifty lawyer, the sassy villain, the shy doctor, the confused accountant, the out of shape bull, the lactose intolerant cowboy and the manic pixie Elvis impersonator?
Granted I made up half of those roles, but the point still remains. "La La Land" would have been better with Ellen in it, and this one GIF is all the proof you need:
Thankfully, now we don't have to spend our days wondering what an Ellen-packed trip to "La La Land" would look like.
The talk show host recently played a "behind-the-scenes" spoof trailer from the movie in which she explains Emma Stone wasn't the first pick for the movie's creators.
That's right: Ellen says she was actually meant to star in the film.
Yes, I know it's a comedy video, but I still loved it and I would definitely still pay a gross amount of money to see Ellen in the official "La La Land."
Citations: Ellen DeGeneres swears that Emma Stone stole her rightful part in La La Land (Mashable)