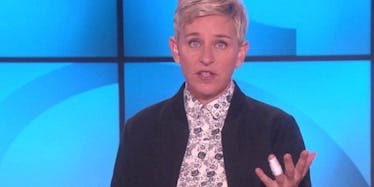 Ellen DeGeneres Proves She's Just Like Us After Her Drunken Hospital Visit
Ellen
You're not the only person who becomes a hot mess when you're drunk AF.
Apparently, talk show host Ellen DeGeneres knows a thing or two about getting wasted and having to take a trip to the hospital.
The 59-year-old appeared on her show on Tuesday sporting a new accessory. No, it wasn't mermaid eyeshadow or Tom Brady's Super Bowl jersey.
Ellen had a finger splint on after a drunken mishap caused her to have to make a hospital visit. The talk show host said she was returning home from a dinner party with wife Portia de Rossi.
After having two glasses of wine, a tipsy Ellen tripped and got her finger caught in a door as she walked up the steps leading to her front door.
Can you relate? If we're being real, probably. But it's all good, we've all been there once or twice.
She explained to her audience,
So, you know how in gymnastics when you do a one-handed cartwheel and you have to spread the weight evenly between all your fingers? Well, I had two glasses of wine and fell into a door.
Don't hate on Ellen's alcohol tolerance.
DeGeneres went on to say,
So Portia and I were coming home from a dinner party and, uh... Drive home, almost at the front door -- literally like at the front door... The dogs were so excited to see us, and I just got the lip of the top step. I was like a foot away from the door and I fell into the door. It did something to my finger and I knew something was wrong.
She then showed her viewers a gruesome photo of her injured finger, and let's just say it is not for the squeamish.
Watch Ellen DeGeneres explain the moment she drunkenly broke her finger after drinking two glasses of wine.
And just when you thought you were the only person out there who becomes clumsy lightweight after just TWO glasses of wine, Ellen reminds you you're not alone.
Cheers!
Citations: Ellen DeGeneres Broke Her Finger In An Embarrassing, Wine-Related Injury! (Perez Hilton)