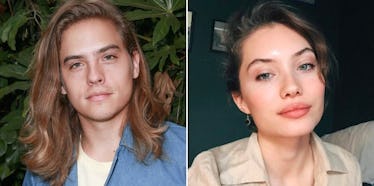 Dylan Sprouse's GF Accused Him Of Cheating On Instagram And Here's His Response
Rich Fury/Getty Images/Instagram
Things got a little intense on Instagram on Thursday, Aug. 10. Dylan Sprouse was accused of cheating on Dayna Frazer, a model Sprouse had been dating for about three years, by Frazer herself. She called Sprouse out for the alleged cheating on her Instagram story. She posted a crying selfie with a thumbs up captioned, "When you find out your bf cheated on you lol." Elite Daily reached out to Sprouse and Frazer's teams for comment, but did not hear back by time of publication.
She then proceeded to delete all of the pictures of Sprouse she had on her Instagram. Sprouse seems to have also deleted all pictures of Frazer from his Instagram, so it looks like they are definitely exes. Now, it appears Sprouse has responded to Frazer's allegations through a series of tweets on Wednesday, Aug. 16. Sprouse's first tweet said,
I will say this and only this: by adhering to an assumption based on limited information, you neglect the complicated nature of this issue.
He continued in three more tweets,
The truth always has two sides, and those sides have motivations, and those motivations, despite how cloudy they currently seem, are private. This is complicated and it will remain complicated, but those who know me and who have known me, know well enough what kind of person I am. And that is all.
Fans of the couple are pretty broken up about the whole issue. The pair has had a strong fanbase supporting their relationship for a while. Some seem to believe the cheating allegations, however.
Frazer hasn't spoken out about the allegations since the original Instagram story post, but the fact that she deleted all pictures of Sprouse from her profile is a pretty solid sign of a breakup. But again, nothing has been confirmed by Sprouse or Frazer.