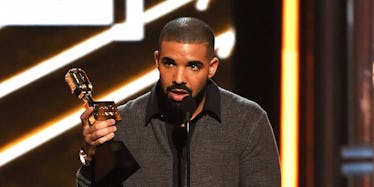 Drake Broke Adele's Record For Most BBMAs At The Billboard Music Awards
Ethan Miller/Getty Images
The Billboard Music Awards were held on Sunday, May 21, and Drake just won Top Artist, which also means he ended up breaking Adele's record for the most Billboard Music Awards won in one year.
Out of all of the nominees, Drake and The Chainsmokers were the most nominated, with each of them being up for 22 awards. They were up against each other in a lot of categories.
At Sunday night's show, which took place in Las Vegas, Drake won 13 out of the 22 Billboard Music Awards he was nominated for. He officially snuck ahead of Adele, who previously held the record with 12 awards out of 22 nominations at the 2012 Billboard Music Awards.
When he won, he took Nicki Minaj (whom he called the love of his life, swoon), Lil Wayne, his dad, and the rest of crew on stage with him, then took shots of his whiskey, Virginia Black.
Additionally, Twenty One Pilots trailed just behind Drake and The Chainsmokers in nominations and ended the night with 17 total wins. Rihanna also had 14 wins, The Weeknd had 13, and Beyoncé (our Lord, light, and savior) had eight.
No one's really surprised Drake won Top Artist. His songs have been stuck in our heads literally every minute of the last year because they're played so often.
Also up for Top Artist were:
Adele Beyoncé Justin Bieber The Chainsmokers Ariana Grande Shawn Mendes Rihanna Twenty One Pilots The Weeknd
Drake and The Chainsmokers were all up for the following categories:
Top Billboard 200 Artist Top Song Sales Artist Top Radio Songs Artist Top Hot 100 Song Top Selling Song Top Radio Song Top Streaming Song (Audio) Top Collaboration
And The Chainsmokers were even up against themselves in some categories, with their albums Bouquet and Collage both up for Top Dance/Electronic Album.
Both Drake and The Chainsmokers performed and definitely confirmed they deserved all their nominations and wins at this year's Billboard Music Awards.