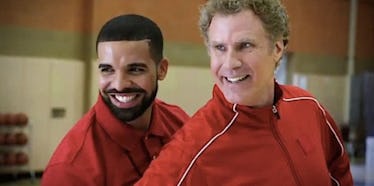 Drake And Will Ferrell Teach Basketball Players Handshakes And It's Hilarious – VIDEO
YouTube
During the NBA Awards on Monday night, Drake and Will Ferrell teamed up for a hilarious sketch and it will make you want Drake back on TV in a sitcom co-starring Ferrell.
In the sketch, the dynamic duo play Coach Palmer (Drake) and Coach Murphy (Ferrell), and they're tasked with the job of teaching NBA players some handshakes to do after scoring the points by doing the thing.
(I don't know how to sports.)
Coach Palmer is an NBA Handshake Specialist, and Coach Murphy is an NBA Dexterity Technician. If I didn't know this was a parody, I literally could have easily thought that these jobs are actual positions people can have. I'm not f*cking kidding when I say I do not know the sportsball.
In the video, Drake says, "Guys, we've seen a lot of great plays today, but your handshakes..." then Ferrell cuts in and yells, "YOUR HANDSHAKES AREN'T WORTH DOG CRAP." True.
Drake adds, "Coach Murph is right, obviously. Listen, after a clutch shot, OK, the crowd wants to see you shaking hands, right? They want to know you're really friends, best friends." Ferrell says, "That's right. Best friends from the same neighborhood."
And then comes the truth tea: Ferrell says, "If you score but your handshake sucks, WE WILL TRADE YOU."
DUN, DUN, DUNNNNNN. THE STAKES IN THE SPORTSBALL ARE HIGH.
The pair then demonstrates handshakes:
The Jenga
The Gossip Queen
The Prom (Classic)
The Black Dad
And Then... The Obi-Wan Kenobi
BUT wait... there's a part two. And it has even more handshakes.
Drake and Ferrell then walk the players through The Helicopter, The Kid At The Grocery Store, and The Lavar Ball, in which you have to shake each other's hands, one person says "Hey sir, can I shake your hand?" and the other says, "That will be $10 million."
HAHAHAHAHAHA, SPORTSBALL JOKES. I TOTALLY GET THEM. THESE ARE THINGS I UNDERSTAND.
Anyway, uh, hope you enjoy the videos.
If anyone needs help learning all of the lyrics in Hamilton, Les Mis, or Phantom of the Opera, let me know.