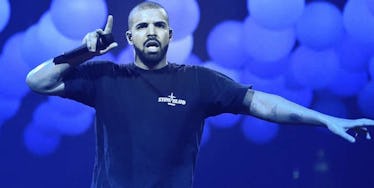 Drake Accuses Coachella Club Of Racial Profiling And Fans Are Slamming It Online
REX/Shutterstock
Drake's latest beef is with a golf course near Coachella.
In a since deleted Instagram post, the 30-year-old music icon called out The Madison Club for racial profiling guests. The La Quinta Resort & Club — a private, upscale club in California — has yet to respond to the claims made by Aubrey, but his post seemed pretty angry.
He posted this to his account on Sunday.
Drake captioned the post,
The most offensive place I have ever stayed at in my life with staff who pick and choose who they are going to accommodate based on racial profiling #Coachella.
The internet has followed suit and taken up arms against The Madison Club. Let this be a lesson to all of you other golf courses: If Drake walks through your doors, you treat him like he's Arnold goddamn Palmer or risk a PR nightmare.
RIP The Madison Club's customer satisfaction rating.
Give it up to Eva, the Maya Angelou of Facebook ratings.
Another user commented,
Fuck this racist ass 'country club' overpriced bullshit & y'all racist, fuck the staff & whoever else owns this racist shit house.
People have even been using Drake's song titles and lyrics to dump on The Madison Club.
It's clearly going to take a little bit of effort for The Madison Club to shake the reputation Drake just gave them.
When people are publishing reviews like this one...
ITS 2017 !!! NOBODY SHOULD HAVE TO DEAL WIT RACIST BULLSHIT !!! YALL UPSET THE #6GOD NOW ITS TIME TO TAKE THIS L PUSSIES !!!! FUCC U !!! #DontUpsetDrake
... you know you have a major problem on your hands.
It's been a fairly quiet Coachella for Drake aside from him putting The Madison Club on blast. On the second day of the festival, he reportedly popped in to do a quick set with Future. That's pretty much the wildest thing that happened to him there.
The literal only way to fix this Madison Club mess is for them to get JLo to dump A-Rod. That's the only way people are going to forgive them at this point.
Citations: Drake Accuses Country Club of Racial Profiling on Coachella Trip in Now-Deleted Instagram Post (People)