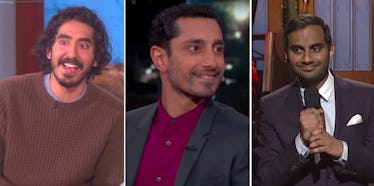 Open Letter To Dev Patel, Riz Ahmed, And Aziz Ansari: Thanks For Bridging The Gap
NBC/ABC/NBC
Remember when Apu from The Simpsons was the most significant South Asian character on American TV?
Apu Nahasapeemapetilon, owner of Kwik-E-Mart. A cartoon character.
Voiced by Hank Azaria. A white actor.
Tragic.
Thanks in part to this famous cartoon, the entire South Asian community was reduced to one trait. Our accent. It made the world LOL so hard that even Pakistani-American actor Kumail Nanjiani has gone on record to say how, prior to his Silicon Valley success, casting agents would ask him to drop his actual American accent and do "the Apu accent." He told Huffington Post:
When I go into an audition, they want me to do an accent ... I already have a Pakistani accent, but they want me to do 'the Apu accent' ... A lot of people think of that as being the go-to comedy Indian accent.
But things changed when some actors of South Asian origin started appearing in mainstream TV and films. Back in 2007 when TV's now-favorite astrophysicist debuted on The Big Bang Theory, fans weren't sure about Kunal Nayyar. Fast forward to almost a decade on, and Comic-Con devotees can't get enough of the Indian actor.
In September 2012, American-Indian actress Mindy Kaling created an eponymous show called The Mindy Project and gave romantic comedy scripts a much-needed break from Katherine Heigl and Kate Hudson. 
More recently, Bollywood biggie Priyanka Chopra has been taking the style, hotness, and talent radar to an all time-high in Hollywood with Quantico, Baywatch, and an insane amount of gorgeous magazine covers.
These aren't the stereotypical roles of convenience store owners, taxi drivers, terrorists, or that annoying geek boy, but they are actual lead character castings who have the ability to tell compelling, authentic stories meant for a global audience that actually reflect the realities of lead actors and actresses.
We're not even half way through 2017 and three very important men from showbiz have already shook things up in the name of diversity.
I had goosebumps when I saw Aziz Ansari become the first Indian-American host of Saturday Night Live on January 21. On February 27, I bursted with pride when Dev Patel received an Oscar nomination and walked the red carpet with his saree-clad mummy. I welled up when I heard Riz Ahmed deliver a powerful lecture at the British Parliament on March 3 about the importance of diversity in television.
So even though I've never written a love letter to any man in my life, you three deserve this one. With the world needing more love, acceptance, and empathy right now, you lads have unknowingly started a movement within the entertainment industry that supports ethnicity, color, and international accents.
You are the leaders of this new America.
Dev Patel
For all these years, I thought Ryan Gosling and his perfectly muddled Old Fashioned in Crazy, Stupid, Love was all I needed to satiate my appetite for hotties, but then you came along, Patel.
Your luscious mane deserves its own Oscar. You have come so far from your lanky Bollywood dancing days in Slumdog Millionaire. There is maturity in your dialogue delivery. There is compassion in the projects you sign. There is an annoying level of secrecy in who you're currently dating. You're giving other skinny Indian boys prancing around their backyards in London a voice.
Whether it's starring opposite Nicole Kidman in Lion or playing the permanently horny teenager in UK show Skin circa 2007, in your own way, you're controlling your narrative as an artist. You're not defined by your British-Indian background, yet you are not separated from it. You still own that sh*t, wear it with pride, and let it be a part of your story.
Riz Ahmed
Oh, Ahmed... you and your insanely beautiful jawline. Cheddar should be grated off that jawline.
You went from a politically conscious hip-hop artist to a multimillion dollar incarnation of the Star Wars franchise and no one batted an eyelid. Your music magically enunciates the messy multiculturalism of the UK. Here's an example from the track "T5":
Trump want my exit, but if he press a red button To watch Netflix, bruv, I'm on… Oh no, we're in trouble TSA always wanna burst my bubble Always get a random check when I rock the stubble.
I mean... C'MON! Somewhere in between your posh London accent and that "Englistan" music video where you're rocking a hybrid of the Pakistani and English cricket jersey, you're showing a metaphoric middle finger to every self-righteous Brit.
There's a 5-year-old girl sitting in Birmingham right now, probably learning how to spell Brexit, who needs Riz MC's courage now more than ever. She needs to know that the Britain she's growing up in will accept her brown skin and no one will racially profile her at an airport.
Hollywood's whitewash mentality didn't affect you, Ahmed, because you're teaching showbiz how to unlearn the subconscious stereotyping of a British-Pakistani Muslim actor.
Can I be your Hannah Horvath à la Girls IRL?
Aziz Ansari
Hey Ansari, you've written a New York Times best-selling book on love and how you can't find it. Umm, HI! Here I am.
What you've done for the glitterati of Hollywood and TV is applaudable. You created a show about you, controlled the way your sexuality and love life were both portrayed, sprinkled some fiction into the mix, and made that self-conscious, pre-pubescent, third-generation Indian teenager from South Carolina believe that his wit and confidence are enough. They are his biggest assets. It's OK to not like gym class. And you know what kid, you won't know it now, but humor is SEXY. Girls dig it.
What Master of None has achieved for TV, no McDreamy or McSteamy has accomplished.
Aziz's self-created character is witty, smart, respectful, existentially confused, and a cocktail of every other badge the millennials proudly wear today.
The conversation of representation and religion is ongoing, and many more voices are joining that discussion now.
Important and iconic roles in film and TV that were previously saved for the George Clooneys and Tom Hanks of the world are now being given to talented actors from minority subgroups. They are all over American TV and this is big development in the name of showbiz and sociology.
You know who added their two cents to all this? You, my dear Ansari! If the Canadians are going to keep claiming Ryan Reynolds, then the Indians aren't leaving you.
So really, all I want to say to all of you is, thanks.
Thank you for your high-profile successes. It's giving the new generation a chance to share their story without seeking approval.
Thank you for your delicious faces. It's helping me get through my man drought.
Thank you for bridging the gap. The world needs you more than ever.