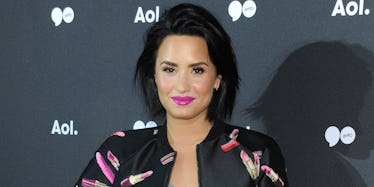 Joe Jonas Had An Entire Crowd Sing 'Happy Birthday' To Demi Lovato
REX/Shutterstock
Happy birthday, Demi Lovato. Go eat some cake by an ocean.
For some reason, the fact Joe Jonas and Demi Lovato are still friends is oddly heartwarming. I don't know them personally or will likely ever be in the same room as them, but knowing the famous ex-couple is still on good terms gives me a weird sense of hope.
It's like remembering Dr. X and Magneto were friends. Kinda. OK, it's a stretch but YOU GET IT.
Jonas showed his platonic love for Lovato while in London performing with DNCE over the weekend at V Fest.
He got the crowd at the world famous G-A-Y nightclub to sing "Happy Birthday" to the newly 24-year-old pop star.
He also tweeted some birthday wishes to Demi.
Happiest of incredible birthdays to one of my best friends @ddlovato I'm so glad to have you in my life. Have the best one yet — J O E J O N A S (@joejonas) August 20, 2016
And here is a nice, sweaty, post-show pic of the band I think we all deserve to look at.
Though the G-A-Y nightclub performance wasn't part of the festival, DNCE was in London performing at both V fests this weekend.
They also drank some coffee.
Throughout the weekend they performed at London's Islington Academy and Weston Park.
HBD, Demi. You rock, never change.
Citations: DNCE Performs at both V festivals in London this weekend (Just Jared)