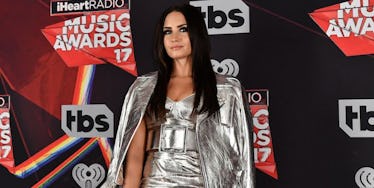 Twitter Is Roasting Demi Lovato Over Her Outfit Choice At iHeartRadio Awards
REX/Shutterstock
The 2017 iHeartRadio Music Awards went down at The Forum in Los Angeles on Sunday, March 5.
People loved the red carpet looks, the musical performances... pretty much everything was a hit except for Demi Lovato's outfit.
Hey now, Lovatics, don't take it out on me -- I'm just the messenger here! It looks like the world has spoken and Demi's wardrobe didn't make the best-dressed list.
In fact, it actually was one of the worst.
DON'T GET MAD AT ME, OK, I'M NOT THE ONE WHO DECIDED TO WEAR ALUMINUM FOIL AND SHOW UP TO THE IHEARTRADIO AWARDS LOOKING LIKE A FRESHLY WRAPPED CHIPOTLE BURRITO.
But seriously, Demi Lovato's outfit looked like an assortment of things, as Twitter points out, and none of them are anything she should be proud of.
Poor girl.
The "Confident" singer's striking number reminded several people on social media of the Tin Man from "The Wizard of Oz."
Others got more of an extraterrestrial vibe and thought Demi Lovato looked like an alien. A cute one, though. ;)
As I mentioned earlier, Demi looked like she was wrapped in aluminum foil. Clearly, I'm not the only one who thought this.
I personally think she looked like a Hershey's kiss... just a giant one.
Hershey's kisses are delicious, you guys, so this isn't necessarily an insult... I'd like to argue it's even a compliment.
You're welcome, Demi! No need to thank me, just send me your closet and, like, 12 million dollars.
Honestly, maybe I'm being too harsh. You really gotta give it to Demi for going the EXTRA mile and matching literally every piece of clothing she's wearing.
Even her jewelry goes with the theme. Her dedication is really out of this world. Haha, see what I did there?
I'm sorry, don't be mad.
Demi, you know I love you, I'm just messing around. Maybe next awards show you can dress like a Power Ranger or wear something really funky so we just forget all about this.
Whatever it is, I'm sure you'll look stunning.