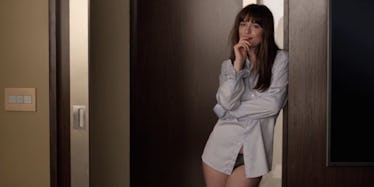 Dakota Johnson Channels Her Inner '50 Shades,' Says The Orgasm Is God's Gift
YouTube
Nobody loves to orgasm more than Dakota Johnson, NOBODY!
All right, that was a pretty aggressive statement and might not necessarily be true, but I just really want to convey how much she's all about the big O.
The "50 Shades Darker" star sat down with Vogue to discuss her upcoming movie role, the concept of fame and her own sexuality.
In the movie, Dakota Johnson and her co-star Jamie Dornan get down to business and have crazy, hot sex in basically every other scene.
The trailer is packed with PDA and will give you a little preview of what to expect from the film.
In the Vogue interview, Dakota Johnson explains the way her role as Ana influenced her views of BDSM in the bedroom. She said,
First of all, there are some very chic avenues in BDSM. It can be very beautiful and tasteful, and the materials can be luxurious. It's not like being on Hollywood Boulevard and walking by a ball-gag store. But what I admire is the bravery and the honesty of people who get down with it, who aren't afraid to say that they need something a bit more in order to get off.
Preach, sister. We are all about that B-D-S-M. WE LOVE BALL-GAGS!
Dakota Johnson's interview was also very informative. She shared a fun fact that will make you want to take your clothes off.
No, seriously. I'm writing this naked.
She shared,
America is still so sexually oppressed. Isn't God's gift to humans the orgasm? Here's a fun fact: A woman has the same number of nerve endings in her clitoris as a man does in his entire penis.
WOAH, 'KOTA! You're one crazy girl.
It seems like the actress feels very connected to Ana. While discussing her character, Dakota said,
This woman is a badass. She's hyperintelligent and hypersexual and very tough and very loving, and her character has so many different aspects that don't normally make sense in one person. I tried to amplify them all.
No, Dakota. You're the badass!
"Fifty Shades Darker" comes out February 10, so be prepared to feel super horny right before Valentine's Day.
Citations: Dakota Johnson Interview (Vogue)