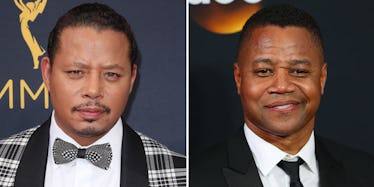 Cuba Gooding Jr. Confused With Terrence Howard By The Emmys' Twitter Account
REX
In a night with a few Emmys upsets, it was this mistake made by the Emmys that probably made Cuba Gooding Jr. and Terrence Howard feel extremely upset.
The Academy of Television Arts and Sciences' Twitter account made a major faux pas on Sunday, tweeting out a picture of the arrival of Terrence on the red carpet.
Except, the Emmys mixed up the "Empire" star with "The People vs. OJ Simpson: American Crime Story" actor Cuba Gooding Jr. and captioned the picture, saying,
Outstanding Lead Actor in a Limited Series nominee @cubagoodingjr at the #Emmys red carpet!
Yeah, sorry guys, but that's not Cuba! At. All. Like, come on, in what world is this not Terrence Howard?
The tweet, which has since been deleted, was captured in a screenshot by Buzzfeed community manager Spencer Althouse.
Of course, the Emmys tried to play it off like nothing happened and quickly sent out a correction.
GAFFE? WHAT GAFFE?! I DON'T KNOW WHAT YOU'RE TALKING ABOUT! (*Commence nervous sweating.*)
Ah, that's much better!
This incident is extremely reminiscent of the time that the Golden Globes' Twitter confused America Ferrera for Gina Rodriguez.
GET IT TOGETHER, AWARDS SHOWS' SOCIAL MEDIA ACCOUNTS.
To really rub it in, I'm going to start calling the Emmys the Golden Globes and the Golden Globes the Emmys to see how they like it.
Citations: The Emmys mixed up Cuba Gooding Jr. with Terrence Howard on the red carpet (Mic)