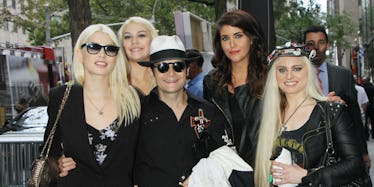 Corey Feldman Helps 'Corey's Angels' And They 'Don't Have To Sleep' With Him
REX/Shutterstock
Corey Feldman, who was once known as a cute child star of movies like "The Goonies," is now known as a... musician?
We guess?
After his performance on the "TODAY" show went viral, and not the good kind of viral, maybe people have been wondering just what the fuck are you doing, man?
Feldman recently came back to the "Today" show to talk about "Corey's Angels," a company (is it a company? Not sure I can call it that. Also, I'm not sure what else to call it) that helps beautiful women.
Feldman said the "360 management development and production entity" started when he met girls at the Playboy Mansion (of course), and they said they wanted to act and make music.
The actor/musician said he made "Corey's Angels" to "help girls who were kind of lost and needed help to find their way."
Which doesn't sound predatory at all, am I right ladies?
Feldman also recently spoke with THR about his, uh, business venture.
When asked about the Angels, Corey Feldman insists that they weren't homeless. He goes on to explain his comments,
Although we have worked with girls who were, you know, I won't say 'homeless,' but certainly in desperate circumstances and looking for a way out. I mean, this world is a very cruel place sometimes. And when you're a beautiful woman, if you're an artist and then you turn 18, they pack their bags and have their dreams of the big city, and then they get eaten up after a month or two with all the predators out here and people that want to take advantage of them.
Corey Feldman, of course, knows this all too well. He had a troubled past growing up in Hollywood and has certainly seen the dark side of a lot of people who he thought would help him.
Corey's Angels came from a humble beginning -- girls Corey was dating.
He said,
A lot of the girls that I was dating, you know, were all kind of telling me the same thing, which is like, hey, I have this passion for art, or, you know, I'm a musician, I'm a singer, I'm actress.
At the same time, he saw these women "selling themselves short." He added,
They were going and trying to do Playboy, and that was like their biggest goal — to be a kind of glam girl, T&A model, that type of stuff.
MAYBE SOME OF US WANT TO BE A T&A MODEL, COREY. MAYBE THAT'S A TOTALLY NORMAL DREAM TO HAVE.
But also, why would the girl who has a passion for "art" want to pose for "Playboy?"
He also commented on the nasty rumors of the "contract" his Angels had to sign, which included clauses such as "Angels must be beautiful inside and out," Angels must be meat-free and not drink alcohol and that they had to help keep the home and office clean.
And...
Feldman said that such a contract does not exist, and it was a "joke" from when he appeared on "Celebrity Wife Swap." But, he also said,
[O]ur plan is, don't eat meat, don't drink alcohol. That's a great way to get your weight down, because we know this.
So it is kind of true, huh?
Above all, Feldman makes it a point to find girls who are "virtuous and honest and loyal."
He also insists that this is not a way to control women and becomes quite defensive on the topic. He explained,
We are giving women the love and support that they need to know that they are beautiful the way they are. That they are good enough the way they are. And they don't have to sleep with me. They don't have to sleep with anybody, ever.
OK. But if they want to?
Citations: Corey Feldman Explains 'Corey's Angels': "They Don't Have to Sleep With Me" (The Hollywood Reporter)