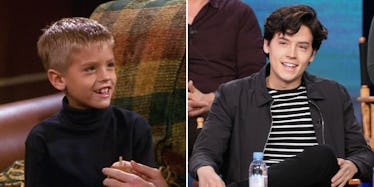 Cole Sprouse, AKA Ben, Reveals Which 'Friends' Star He Had A Huge Crush On
NBC/REX/Shutterstock
While Cole Sprouse may be known by newer fans as Jughead, the "Riverdale" star will forever be Ben, Ross Gellar's often absent son, to every "Friends" fan.
Along with his twin brother Dylan, Cole appeared as Ben in later episodes of the 1994-2004 sitcom. The two also starred the Disney Channel series, "The Suire Life of Zack and Cody" from 2005 to 2008.
Now, at 24 years old, Cole is taking on an edgier role in the CW show inspired by "Archie," and reminisces about one of his first roles.
According to Cole, he was "seven or eight" when he appeared on the beloved sitcom, and even then he realized what a tremendous experience it was.
He told the New York Post,
You felt it when you stepped on set, even as a kid. It was challenging because I was a small kid who was working with these sort of megalithic actors at the time. It was quite intimidating. But it was a really wonderful experience. They were all tremendously nice.
But there may have been one actress who was extra intimidating for the young star -- because of his massive crush on her.
Cole said,
I had a really, really hard time working with [Jennifer] Aniston because I was so in love with her. I was infatuated. I was speechless — I'd get all bubbly and forget my lines and completely blank… It was so difficult.
Awkward, seeing as how his TV dad, Ross, was always in an on-again-off-again relationship with Aniston's character, Rachel.
They even had a baby, Ben's half sister.
But truthfully, what red blooded American didn't have a crush on Rachel?
Cole hasn't seen the "Friends" cast since filming, but he said,
If I saw any of them, I'd say, "Hello." But it's been a while and I certainly don't look the same, so it'd be a hard sell.
Citations: Ben From Friends Just Revealed His Celebrity Crush Was Definitely Jennifer Aniston (Time)