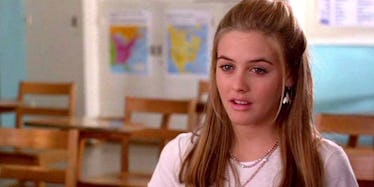 Cher From 'Clueless' Stripped Down: 'I'd Rather Go Naked Than Wear Wool'
Paramount Pictures
Alicia Silverstone, AKA our main girl Cher from all-time fave chick flick "Clueless," stripped completely down for a new PETA advertisement.
The 40-year-old actress left little to the imagination while she struck a pose totally nude in the grass, while holding onto a sheep mask with one hand.  The picture was taken by elite photographer Brian Bowen Smith.
The slogan on the ad reads, "I'd rather go naked than wear wool. Wear your own skin. Let animals keep theirs."
PETA released their new advertisement this afternoon on their Instagram account. Along with the powerful photo, the nonprofit organization wrote,
Actor & bestselling author @aliciasilverstone would rather go naked than wear wool! Sheep are gentle, kind animals who are often beaten, kicked, & mutilated so their wool can be made into sweaters, scarves, & other clothing items. Choose fake, for animals' sake!
Silverstone's Instagram is dedicated to her healthy lifestyle and being a major advocate for animals' rights. According to PETA's feature on her, she is a vegan and very passionate about not wearing down and leather.
The actress has her own awesome website called "The Kind Life." Two of the sections are entitled "Animal Love" and "Green Life."
In the intro to her site, Silverstone wrote,
I will be sharing all kinds of tasty morsels with you; from fashion and beauty tips, to simple ways that we can help the planet! Come on in, kick off your shoes and check out all sorts of recipes, my favorite foods, nutritional information from doctors , the very best restaurants, amazing travel discoveries, party planning tips, ways to make sure your house is as healthy and green as possible, great pet care tips, and so much more.
In the video Silverstone did for PETA's anti-wool shoot, she said,
They're cut. They're harmed. They get very seriously wounded, and there's no care for them when they're wounded. It's just move on to the next. These are not creatures to the people who are doing this. They're just objects. When the sheep are no longer useful, they're killed. So there is no happy place they get to go for being a wool sheep.
The PETA billboard spotlighting Silverstone can be found near New York City's Times Square (40th Street and Eighth Avenue).
Citations: Alicia Silverstone Would Rather Go Naked Than Wear … Wool! (PETA), Alicia Silverstone Poses Totally Nude for PETA Ad: 'I'd Rather Go Naked Than Wear Wool' (US Weekly)